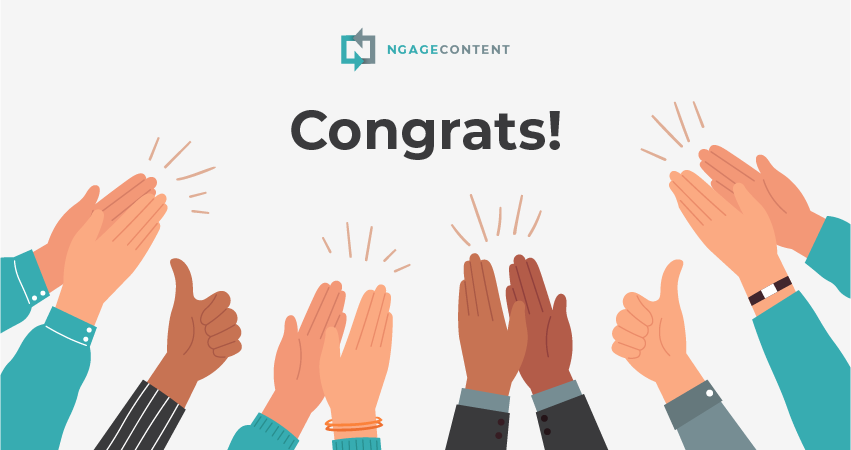 Hayley Glessner, Loren Shumaker, and Scott Finkelstein Elevated to New Roles
With 2022 just around the corner, NgageContent is ready to meet expanding client needs for inbound marketing projects with a growing team that continues to develop in providing simple, but effective solutions and initiatives. 
NgageContent is proud to announce the promotions of three essential team members, effective immediately. 
Scott Finkelstein

is now our new Vice President of Client Services

Loren Shumaker

is now NgageContent's Art Director

Hayley Glessner

is elevated to an Inbound Strategist
The trio of promotions comes on the heels of a banner year for NgageContent. The team has successfully onboarded several additional members — including our newest addition, embarked on a new strategic partnership, and continued to move the needle for clients with measurement-driven campaigns that drive bottom-line results.
"2021 was a big year for our team, and we couldn't have had the success we did without these three," said NgageContent CEO Mike Cottrill. "I've told our current team several times that in roughly 8 years in business this is the best talent and culture we've ever had." 
Hayley Glessner started at NgageContent as a Junior Copywriter and quickly distinguished herself with her ability to create content for various clients in many different mediums and platforms. As an Inbound Strategist, Hayley will have an updated role that focuses more on her talents for SEO and content strategy, such as optimizing content for web traffic and conversions. 
A "rock" for NgageContent's SEO and content efforts, Hayley acclimated to the team quickly and soon thereafter carved out her own essential niche.
"When you hire someone the generic phrase is that you want them to 'hit the ground running,'" Cottrill said. "When Hayley joined us in 2020 she not only hit the ground running, she ran right past the rest of us when it comes to SEO strategy. We're so excited for the things to come with her!"
Loren Shumaker has been indispensable as a Graphic Designer with NgageContent for the last two-plus years where he focused on front-end web design and development and assorted other design-related work. In that time, Loren has become a trusted advisor for the whole team on how projects should 'look and feel' to give clients the most impact. 
As Art Director, Loren will now be our leader in all of our design efforts — online and offline. 
"Loren has become the design eye for us. I trust his intuition more than I trust my own when it comes to brand visualization," Cottrill said. "From day one, he's taken his talent and used it to step up our design capabilities for all of our clients."
Scott Finkelstein has served as the Content Director at NgageContent for more than three years. He's wrangled all things content-related — from emails to blogs to ebooks — and displayed a natural aptitude for crafting the perfect messaging to convey a client's expertise, knowledge, and experience. 
As our new Vice President of Client Services, Scott will be even more involved in leading our client strategies on all things inbound. The promotion allows him to continue his working relationship with senior leadership at NgageContent, which extends far beyond his three years as Content Director.
"Scott has been with NgageContent since before that was even our name. In our early years we pulled him in as a freelance writer, strategist, anything we could get from him," Cottrill said. "We knew early on we wanted him on our leadership team and he's made a huge impact. This new role is a natural step forward for him as he takes on even more client strategy work."
Connect with Scott, Loren, and Hayley — and the Rest of the NgageContent Team
We transform your marketing efforts into goal-based strategies that drive revenue. By learning about you, your business, and your customers, we'll create inbound marketing campaigns — including holistic solutions — that help you attract, qualify and convert more leads and keep your existing customers engaged. 
Contact us to discuss custom inbound marketing solutions to enrich your customer connections.