INCREASE SPEED-TO-VALUE WITH OUR HUBSPOT IMPLEMENTATION SUPPORT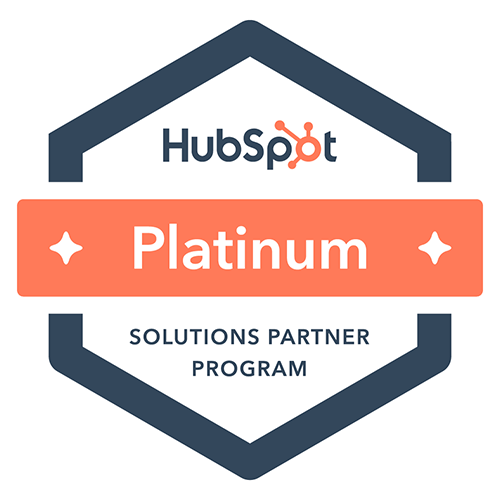 Just as with any other investment, being able to make the most out of HubSpot in as little time as possible is critical to achieving high ROI and accelerating its use throughout your organization. As a Platinum HubSpot Solutions Partner, our team can manage your HubSpot implementation from start to finish. Not only do we take care of setting your account up, but we also ensure it's configured properly so you and your team can get started with your new system right away.
DESIGNED FOR YOUR SALES PROCESS
Your company is unique. Your team members are unique. That means that your sales process should be unique, too. HubSpot already offers great capabilities off-the-shelf, but the true value is in its flexibility and customization. We'll work with you to understand your sales process, what your funnel and deal stages look like, and how notifications and automation should be set up to minimize the administrative burdens of selling so you can increase revenue faster.
CONTACT AND CREATIVE SUPPORT
A clean database is the best database. As part of your HubSpot implementation, we can provide guidance on list creation, contact properties, and other contact-level (as well as company-level) recommendations to make your use of the system more efficient and practical for how you market and sell. Our design team will also prepare a full suite of templates branded and written to your organization that will be ready for use right away.
WORKFLOWS AND LEAD SCORING
As a marketing automation system, HubSpot is designed to help you market more intelligently and in a targeted fashion and maximize selling potential as a result. We'll help you set up smart workflows that keep prospects engaged and nurture new opportunities with your existing customers. And we can design a custom lead scoring framework that assigns value to your contacts based on activity, triggering intelligent alerts to your team when contacts hit preset thresholds that indicate greater engagement.
INTEGRATION SUPPORT
Your organization may already be using Salesforce or another CRM, eCommerce, or marketing automation system. A growing number of these platforms can be integrated natively into HubSpot, allowing you to put the full power of its marketing automation capabilities to work for your business while maintaining the data you've already built in a separate system. Many of these integrations offer two-way sync, ensuring that no data is lost between them. Our team can map the two systems together so no system change is required for your team.
GOING BEYOND HUBSPOT IMPLEMENTATION
As a HubSpot partner, we can continue to support you with all of your HubSpot needs. From ongoing content and email marketing to social media support and inbound strategy, our team of experts is here to help you achieve your marketing and sales goals.