HubSpot Consulting Support, Training and Best Practices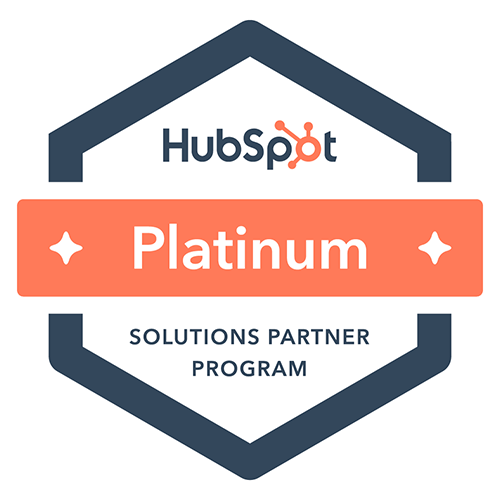 HubSpot is a powerful inbound marketing and sales tool. If you've decided that it's the right fit for your organization, you want to make sure you get a return on your investment. As a Platinum Solutions Partner, our HubSpot consulting services can help it fit your business goals.
From initial setup to ongoing management, our team takes the lead on nearly 20 HubSpot accounts, and we're on the cutting edge of updates and best practices that will make it work for you.
Putting HubSpot to Work for You
You've invested in the infrastructure of your inbound marketing and sales efforts, and while HubSpot is powerful, it still requires a watchful eye. Our HubSpot consulting team knows that it can feel like a full-time job to set up and maintain all the moving pieces in HubSpot, so we bring our expertise to you, offering everything from team training to fully outsourced account management.
You know that your inbound marketing efforts will equal bottom-line results for your sales efforts. We'll help put together a strategy that uses HubSpot tools effectively to attract, nurture and convert leads for your organization.
HubSpot Technical Help
There are a lot of moving parts and updates in HubSpot, and it can be tough to figure out what went wrong when your workflow doesn't activate correctly, or your website forms don't capture information the way you expect. We handle ongoing HubSpot technical help for our clients, handling everything from website builds to taking over issues with form or landing page display.
We know that your expertise is in running your business, and HubSpot needs to be a tool to help you do that more effectively. That's why our team of developers, designers and workflow specialists take over the heavy lifting on any technical issues you come across.
HubSpot Implementation Services
If you've been considering HubSpot for your marketing automation and sales needs, our team can serve as a reliable and speedy implementation partner. By working with our team for your implementation, you gain access to more benefits as well as peace of mind in knowing that your account — whether it's one or several as part of an Enterprise implementation — is set up correctly from the start and configured precisely to your needs.