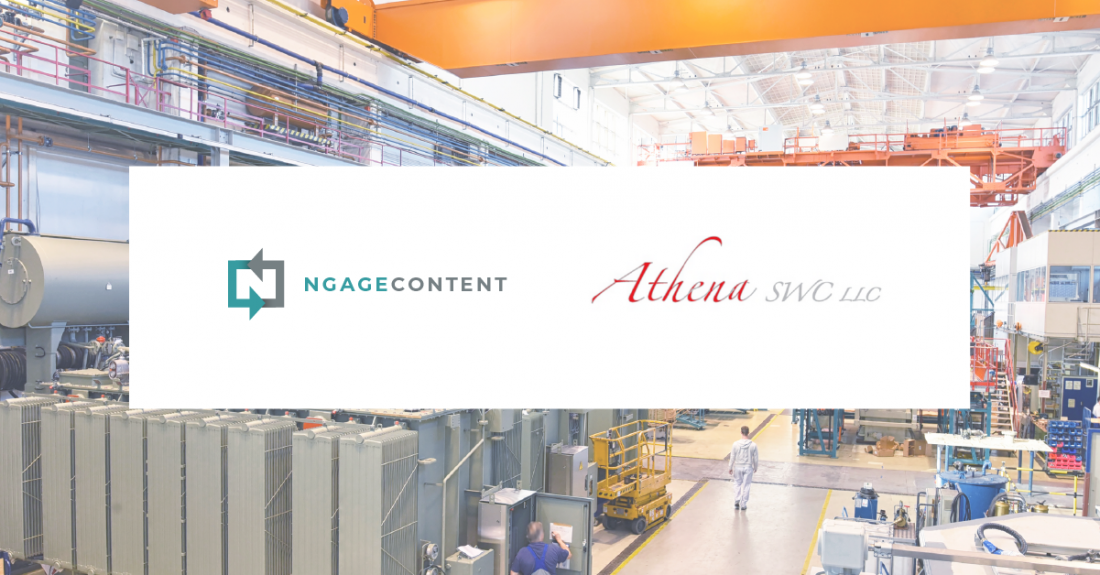 NgageContent is pleased to announce that we've partnered with Athena SWC LLC — a manufacturing marketing services agency based in Amherst, New York.
Since 2007, Athena has been partnering with organizations in a variety of complex manufacturing and healthcare subsets, including corrugated cartons, electronics, metal fabrication, plastics, professional services, technology, and more. The agency is highly process-driven, designing custom programs for each client that generate qualified leads, move them through the sales pipeline, and consistently produce greater revenue.
Focusing on the front-end of the sales cycle, Athena doesn't simply deliver lists of "qualified" opportunities to its clients and then call it a day. Their team continually optimizes the sales funnel, managing opportunities from prospects into sales-ready leads — and more importantly, leads that meet clients' specific growth requirements.
And the results? A more compressed and efficient sales cycle, greater sales rep productivity, and an increased flow of highly qualified leads. We're extremely excited to partner with their team to combine their unique approach with our inbound search engine optimization, content marketing, and web development capabilities.
"We're extremely excited to be working with Athena in this new partnership," said our CEO and cofounder Mike Cottrill. "They have an established reputation in our industry and have accomplished amazing work for their clients. As we expand our services for manufacturers, it makes sense that we partner with Athena to drive greater lead opportunities and maximize our clients' marketing investments. We're looking forward to supporting their success and the success of their clients with our inbound marketing work."
"Our goal of being a best-practice inbound/outbound marketing firm for manufacturers is realized through this partnership. It allows us to offer a completely integrated inbound and outbound marketing approach, which is required for the flow of leads and ROI our customers need," said Todd Zielinski, CEO and Managing Partner of Athena SWC. "This truly differentiates us because most agencies offer either inbound or outbound, not both, and they can't track, measure, and monitor return on investment and sales growth."
What We're Looking to Achieve Together
Our new partnership is designed to create a holistic approach to marketing and sales growth. While Athena is engaging with its clients' prospects to move them closer to a sale, our team will be digging into the SEO data from key companies' sites to identify new opportunities for building organic traffic, providing helpful content in the form of blogs and new site pages, building and pursuing backlink opportunities, and more.
We'll help feed the top of the funnel and support contacts in the middle by answering key questions through new content and ensuring websites are as optimized and conversion-ready as possible. As new opportunities come in, Athena will connect with and engage them to bring home the win for their clients.
Along the way, we'll be bringing Athena into new opportunities for clients that are looking to streamline their sales process and identify and close extremely qualified sales opportunities. Our new partnership is already well underway, and we can't wait to move the needle together for our shared clients.
Need a More Holistic Approach to Your Marketing and Sales Efforts?
Connect with us to learn how together, NgageContent and Athena SWC can help you attract more qualified traffic to your site and convert them into sales-ready opportunities.