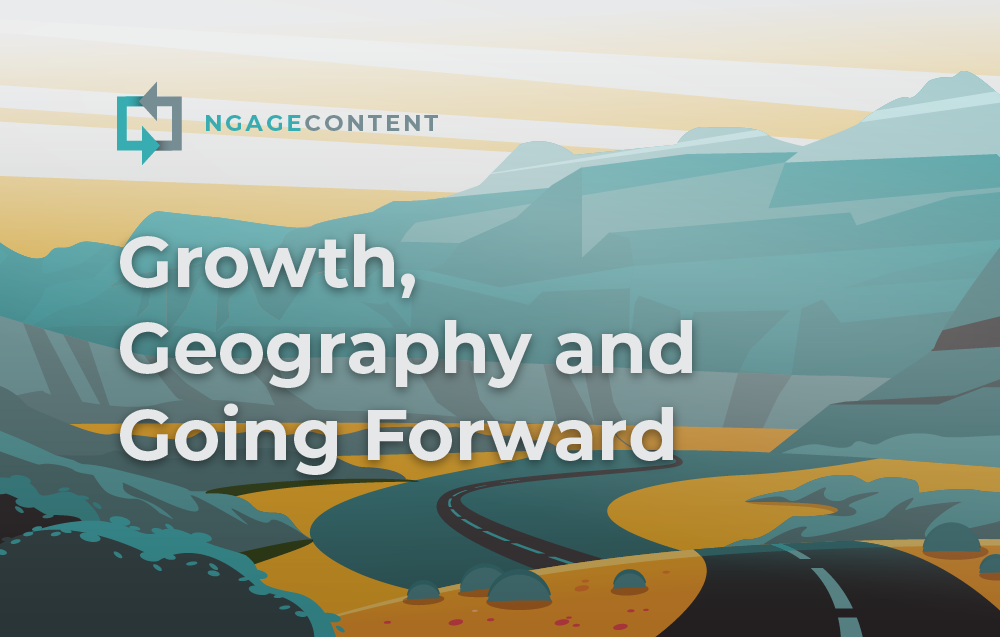 Sometimes you're not smart enough to take your own advice. I constantly tell our clients that they should write, write, write. More content will help them tell their story and differentiate their brand.
Then, we got busy growing in 2022 and I put my head down and my keyboard away.
In the time since, we've nearly doubled in size, expanded the team to six states, grown our biggest partnership, and worked to be better inbound marketers. If nothing else, we should take a moment to celebrate how we've grown with all of our amazing clients. Our growth has been focused on areas where you tell us you need more help, and we have more and better resources than ever to help you with your marketing goals.
Who knows where the economy is going in 2023, but I thought I'd provide a bit of an update on what we've been up to over the last 12 months.
Role Updates
With growth comes the ability to better celebrate employee milestones and achievements. I believe this version of the NgageContent team is the best we've had, and several of your favorites have been recognized for their great work with updated roles and titles.
It likely doesn't do these folks justice to simply list these out, but with so much going on, we want to make sure everyone gets recognized. Here are the updates (in alphabetical order because they are all big changes):
Jason Arkley was promoted to Senior Content Manager
Jessica Kusisto (nee Purgett) was promoted to Copywriter
Hannah Powall was promoted to Account Manager
Erik Salo was promoted to Account Executive
Valentina Slechticovas was promoted to Inbound Strategist
Whoo. Deep breath. That's a lot!
Write On
No team within NgageContent has grown like the content and SEO department. Forgive me for this, but it appears our clients think we have the write stuff (yes, copy edit told me to cut that, but there are a few perks to owning 50% of the company and making puns when and how I want is one of them). This includes two hires in the last five months: Regan Puckett and Jordan Wilson.
You can read about Regan, who joined us in December of 2022, and her passion for writing. You can also learn more about Jordan, who joined us in March of 2023, and how she is NgageContent's second black belt in karate (so don't mess with us!).
Around the Country
As we've grown, we've leaned into our remote-first world. Though the majority of our employees are still in Ohio, we now have teammates in six states, making it as far west as Oregon and as far south as Florida.
Going fully remote has helped us expand the talent pool and put an emphasis on a production-first culture that creates results. We continue to evolve how we hire, train, and build our culture as we expand our geographic footprint. We'll be taking a break together in Cleveland this summer for an all-hands meeting to further sharpen how we serve our clients.
Partnership Expansion
A healthy portion of our growth can be attributed to our partnership with Athena SWC, LLC. Athena is a lead generation company focused on the manufacturing industry.
Working with Athena gives both of our organizations a holistic offering that takes prospects from the initial website visit through the sales qualification process. The results have been phenomenal, and we're happy to report that we are working with them to provide inbound leads and qualifications for 20+ clients.
We love the folks at Athena and have made regular visits to Buffalo a new part of our world (and not just because they take us out for the spaghetti parm at Chef's).