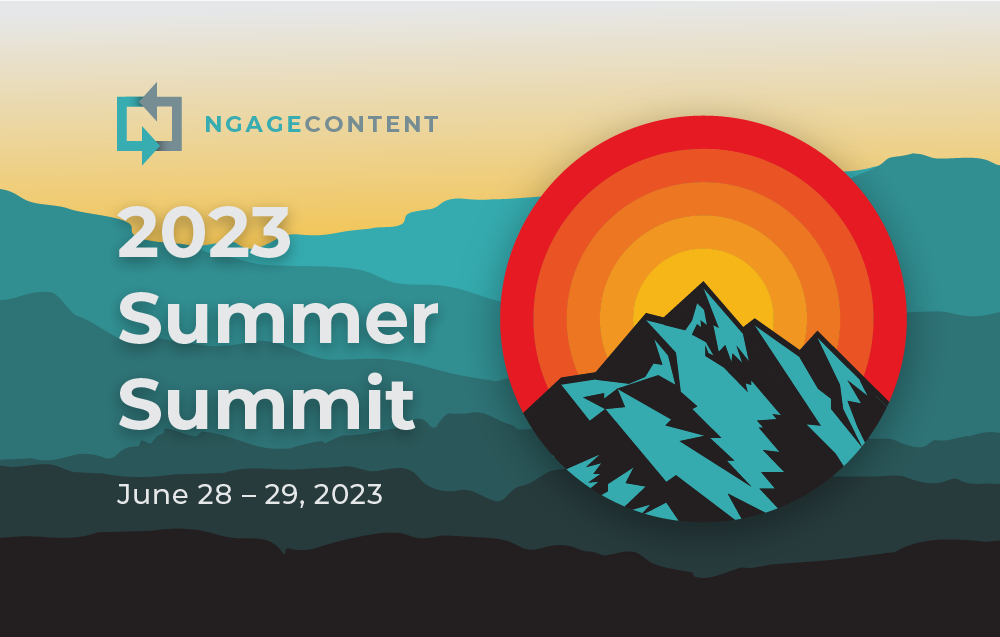 Oh hey!
We wanted to let you know about a pretty nifty upcoming event for our team — the 2023 NgageContent Summer Summit.
Kicking off on Wednesday, June 28, our Summer Summit is a two-day all-hands meeting followed by some well-deserved time off for the NgageContent team. We're giving everyone a heads up now so you know what's going on and why it's important.
Here's our schedule around this event:
Wednesday, June 28 — Summer Summit!
Thursday, June 29 — more Summer Summit!
Friday, June 30 — office closed
Monday, July 3 — office closed
Tuesday, July 4 – office closed 🇺🇸
Wednesday, July 5 — back to work!
What's this all about?
Now that we have employees in seven states (seven states! 🤯), we wanted to bring everyone together for a couple of days for training sessions, brainstorming, team-building, and reflection on the first half of 2023 — all to make sure that we're energized and ready to rock the second half.
First things first, though — we needed to decide where to bring everyone together.
To Milwaukee for some brews with our copywriter Jessica?
To sample the sights of Portland, Oregon with our art director Loren?
To hit the slopes of Colorado with our junior copywriter Jordan?
Tough choices, indeed…which is why we ignored all of those and chose the best option in the best city in the world (and our original HQ) — Cleveland, Ohio!
We're excited to use this time to bring everyone together in person for training and to plan for the second half of the year. We have sessions planned for our full team as well as focused training for our pod teams (of which the Content pod is the best) to sharpen our skills and help tackle challenges for our clients. And, we're looking forward to a mid-year break to take a moment to breathe in all of the improvements to the team — you can learn more about those here!
Thank You for a Great First Half of the Year
We know 2023 started with a great deal of uncertainty for everyone, but we're grateful to our clients for their trust and partnership. We look forward to helping you grow for months and years to come. And expect great things from the team when we return in early July!
Wishing all of our clients, partners, and industry friends a strong Q2 and an even better second half of the year. Enjoy the warmer weather and sunshine!
*Laughs nervously as snow falls in late April 😅*