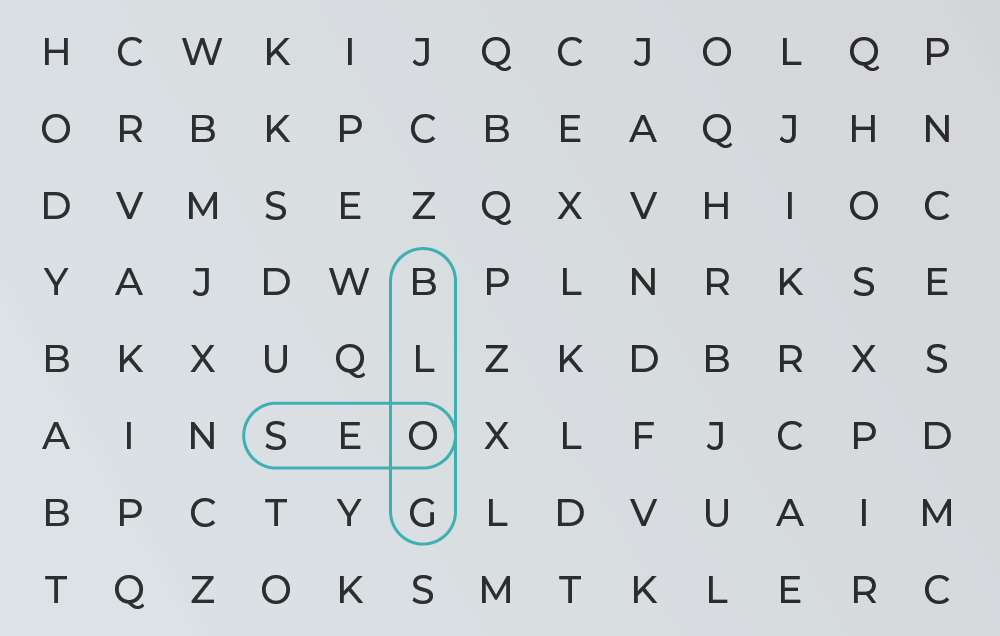 As the newest member of the NgageContent team, I've engaged in several conversations over the last few weeks, trying to explain to those that I know just what it is I do now. Besides sweating through random acronym quizzes from our CEO, I help provide content marketing for clients investigating how blogging helps with SEO.
Or, to put it another way: I illustrate how blogging helps the Search Engine Optimization efforts of our clients and thus aids in generating more qualified leads through inbound marketing.
Remember word search puzzles? Those grids of seemingly jumbled letters that contained words you were expected to find — and often populated middle school worksheets and the back pages of youth-oriented publications? Think of the internet as the ultimate word search puzzle. Somewhere in that incomprehensible mass is your business' website, waiting and yearning to be seen and found to provide the right information, product, or solution to the people looking for it.
SEO benefits for your business are like taking a red highlighter and circling your website — your content and services — in that massive word jumble. Those looking for your specific service, insight, or product offerings are now much more able to find it.
Blogging is a key and essential tool in any SEO campaign and has been proven many times to effectively empower such efforts. Here, we'll go over the specifics of how blogging helps SEO, which often relates to how your business can show your expertise, authority, and trustworthiness to Google (and other search engines) that drive organic search.
How Blogging Helps SEO, Let Us Count the Ways
It's Good to Stay Current
Ever visit a site and notice it hasn't been updated for weeks, months, or even years? What's your reaction? The natural tendency is to move on immediately. You're searching for an answer — to a specific question or to solve a specific problem — and a dormant site may not have accurate or up-to-date information and may no longer even be in business. An outdated site lacks authority on a given subject.
By providing blog posts regularly, you are showing your audience (and prospective leads) that you are active and engaged in producing relevant, quality information. With regular updates, you're also giving Google's algorithms more reasons to index your site more often.
Google doesn't want to deliver outdated information to its searchers. Websites that are regularly updated signal that they are alive and offering fresh content. With blog posts, you gain a practical way to add new content to your website regularly, without the hassle of constantly updating home pages.
Cozy Up and Stay Awhile
The algorithms Google uses never take a day off and constantly evaluate ways to improve the user experience. If someone searches, finds, and then visits your website but then nearly immediately returns to the Search Engine Results Page (SERP), then Google may determine your page isn't as relevant as it thought.
However, if someone found your website through a blog post, then it's more likely they'll spend more time reading the content they were seeking in the first place than if they had landed on a page with less information. When users log longer sessions on your pages, this signals that your website is helpful and relevant, and is something future searches will likely impart value to.
The Links are Coming From Inside The Site
Links — to your other pages and your content — are a surefire way to improve SEO. And you may be already finding ways to link internally to things like specific product or services pages.
But how blogging helps SEO in this regard is that it offers a potentially ever-expanding web of opportunities. As you add more posts on various — but related — topics, you're creating more chances to link those pages together naturally. Every time you do, you can use anchor text to better inform search engines what the page you're linking to is about. This, in turn, strengthens its connection to your target keyword and will add expertise, authority, and trustworthiness to the profile the algorithm is forming about your website.
More (Keyword) Targets of Opportunity
Keywords — what you type into that Google bar — are the building blocks of SEO. Every page and post should have them in mind. And consistent blogging will allow you to target more (and more specific variations) of them.
For instance, you may already have several optimized landing pages, but blogging will allow you to continually add new search terms and long-tail keywords that are more targeted, easier to rank for, and draw in new users. Blogging will enable you to target more of these keywords, including ones that wouldn't sound natural on your landing pages. While long-tail keywords can be awkward for product pages to optimize, they're tailor-made targets for blog posts.
All-Natural Link-Building
Maintaining a consistent blog stocked with quality content dramatically increases the potential to garner more domain authority and trust from potential leads in the form of backlinks. Backlinks are when another website decides it's valuable to their readers to link back to material (like a blog post) on your site.
Cultivating backlinks is much more difficult without a blog. Interested readers and potential leads are much more likely to link back to valuable information they gleaned from your site instead of a static landing page or product listing page. With more backlinks comes more trust earned from the Google algorithm. For example, HubSpot found that companies who blog receive 97 percent more links to their websites.
Mention that Brand Again, I Dare You
Blogging can help you place your brand out in front of more readers, which can, in turn, lead to social media engagement, as well as mentions of your brand in places that you couldn't reach without blogging.
Blogging can significantly contribute to various linking factors, from social media channels to SEO and even word-of-mouth. When your audience reads a post they engage with or is relevant to their interest and needs, they'll be more likely to share it, drive additional traffic to it and even return to your website for more content or see what else you have to offer.
Lots of traffic and repeat visitors will raise your expertise, authority, and trustworthiness levels. More than that, however, blogs offer a way for your business to make connections and start a continued relationship with the people you want to reach.
It's a Matter of When, Not If
Blogging, as it relates to content marketing, is here to stay. The many facets of how blogging helps SEO has led to it being embraced by businesses as they realize that consumers today would rather learn about brands from content than traditional advertising.
A blog allows you to implement a scalable cog in your overall content marketing strategy, and one that provides a window for you to publish relevant content, increase search traffic to your site, show off your expertise on industry topics and discuss your product with potential customers.
If you're looking for a way to stand out in a chaotic, word-jumbled SEO environment, consistent high-quality blog content is a red-marker solution up to the task.