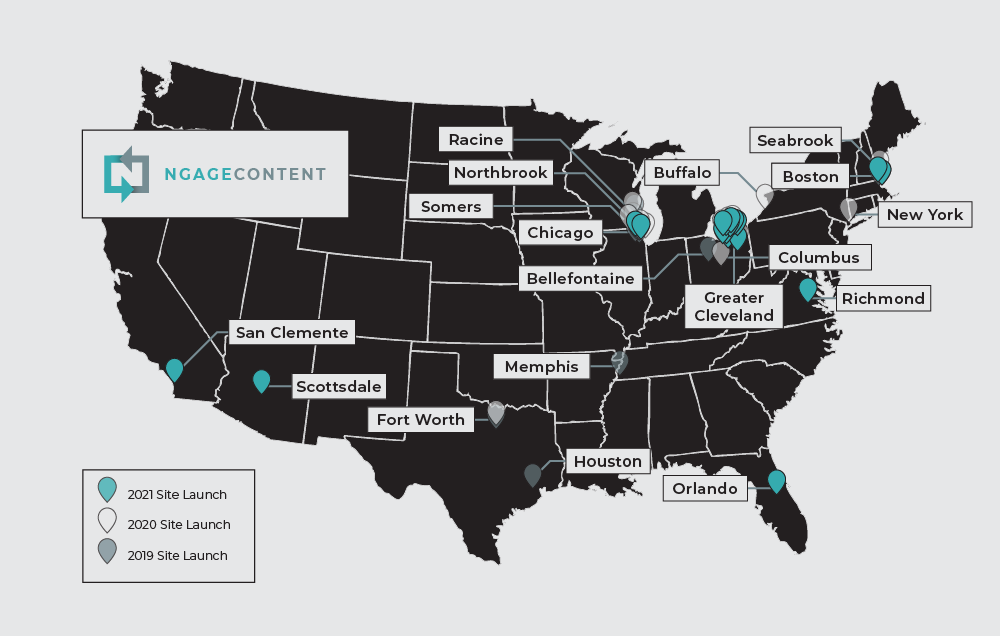 NgageContent Delivered Website Projects Nationwide
The previous year continued to challenge each of us in a variety of ways, but it did not deter the NgageContent team from producing the website solutions sought by our clients in 2021. From showcasing and strengthening their brands to helping them reach their lead generation goals, we're thankful for the opportunity to continue to make new websites — or refactoring existing ones — to give our clients needle-moving representation on the web.
This is the fourth annual blog where we've added the major website projects from the previous year to our overall sitemap. It's a good way to visualize the scope and breadth of our work during the previous 12 months and provides examples of the quality of work we perform to improve the web presence for clients. In 2021, we added 18 more new websites or site overhauls for clients across the country.
From real estate to manufacturing, brand implementation to facility management, and much more, we were fortunate to work with a diverse range of terrific companies in 2021 to hone and deliver their messages through new web content. From creating vibrant visual designs to content that encapsulates everything they do, we're looking forward to creating and finishing more exciting website builds in 2022.
Our 2021 Website Builds
You can view the full list of major website projects we completed in 2021, with links to view each of the sites, below. For a full review of what 2021 was like at NgageContent, check out our 2021 Year in Review blog.
Arizona
Scottsdale
California
San Clemente
Florida
Orlando
Illinois
Chicago
Northbrook
Massachusetts
Boston
Ohio
Alliance
Cleveland
Medina
Mentor
Seville
Virginia
Richmond