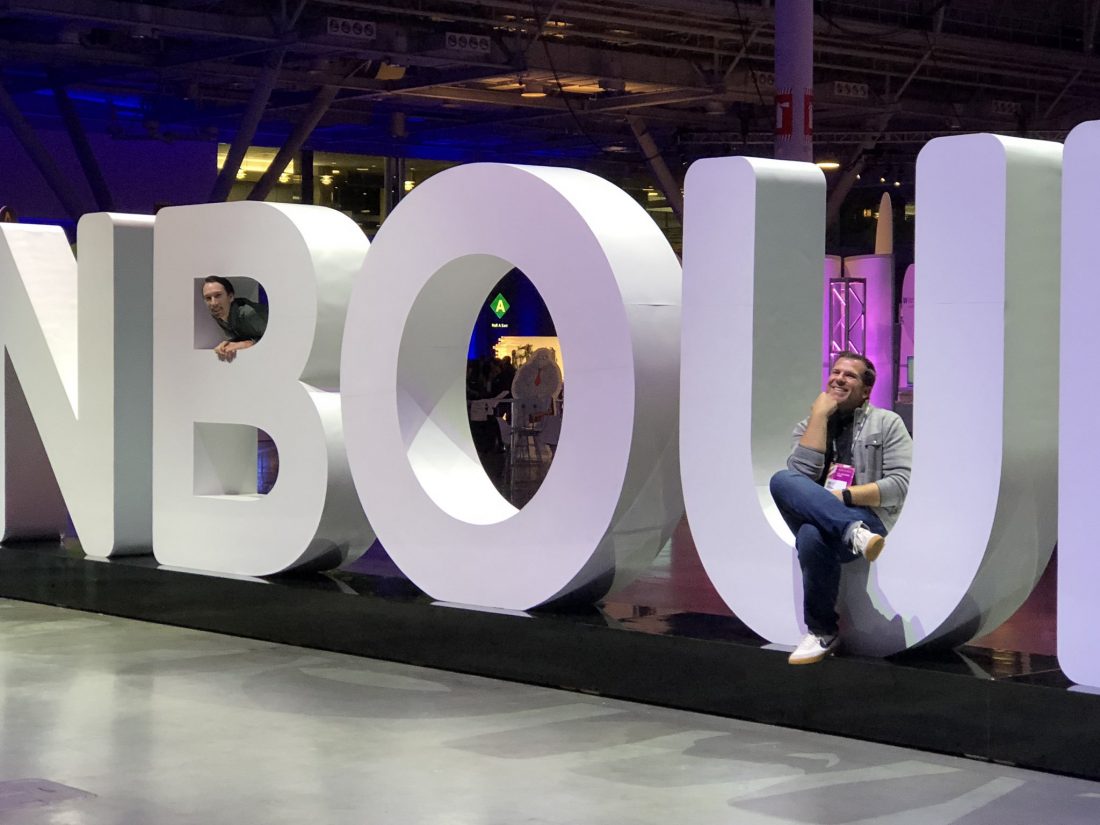 Baby's First INBOUND
During the first week of September, I got to live the marketing dream in Boston at my very first INBOUND conference. I'll tell you, it was something else being surrounded by so many people doing work in the same field as your own. HubSpot created an ecosystem that allowed us to live and breathe inbound marketing for four days, and it was awesome! When I got on the plane to head home, I was feeling totally amplified and ready to roll out every new update — until I was actually back in the routine at work.
As many of us know, it is so easy to get super jazzed in the moment, but then often we come crashing back down to reality. When everyone else around you is feeling like HubSpot just invented Goldfish Mac & Cheese (may we never forget this societal peak), you can't help but feel the same way. In that moment, anything seems doable, and you can't wait to take that confidence back to the office with you. 
But then, you're back at work, away from the club music and fancy lights, trying to conceptualize everything you learned in an actionable way. It makes you want to escape back to the conference for a few more days. But discouragement needn't come so swiftly. I know INBOUND has been rehashed into oblivion online already, but I want to share some INBOUND takeaways that you can implement gradually — and confidently — today.
Chatbots Are Getting Chattier
INBOUND boasted some exciting announcements for HubSpot chatbots, like the ability to target by IP address, time on page, exit intent, and more, but who here is actively using chatbots? Judging by the number of hands that went up when that question was asked at INBOUND, I wouldn't guess too many. That actually translates into a huge opportunity for so many of you, though! 
Chatbots serve the growing preference of online communication and provide the instant gratification we seek. Luckily, they can be as simple or as complex as you'd like. If you're looking to master chatbots, I would start with your homepage and your top three or so website pages. Here's how you can begin:
Think about the most common reasons people come to your website and how you can optimize for those most common reasons

If you have FAQs or knowledge pages, direct users there instead of creating a path for every question

Think about your goal for website visitors and what action they would ideally take

If your goal is lead capture, send them to the contact page or a page that has historically converted well (more info on how to use HubSpot to find those pages

here

)

If your goal is simply to inform, send them to your most knowledge-rich pages

Test different chatbots over the next few months so you have a foundation in place ahead of the updated targeting rollout

Just like emails or ads, your chatbot should be optimized over time as you learn more about your audience
Just whatever you do, promise me that you won't implement a single chatbot across your entire website. You designed every page of your website for a specific reason, so leverage chatbots to convey that reason to your visitors! Always make sure you're catering to your user and addressing the questions you know they'll have based on the page. Once you feel more familiar with chatbots, you'll be ready to get the most out of the upcoming targeting updates.
Multi-Touch Attribution Reporting for Duty
Multi-touch attribution reporting is finally here! This is huge for proving the ROI of your HubSpot investment and gain a better understanding of what leads to conversion. We've been asking for this update for a long time, but how many of you actively use HubSpot reporting and/or create custom reports?
HubSpot is getting better and broader with its recipe reports, but you can find a way to track just about any metric within HubSpot using custom reports. Before trying to pull everything from the multi-attribution report, make sure you understand the insight you can get right now from their current attribution reports and custom reports. 
Whether you're looking to track top engaged prospects, email opened by contact industry, or count and amount of deals by a trade show, you can find a way to keep track of those metrics in a custom report. Custom reports can also be created to automate repeat quarterly/monthly/weekly reports. 
Multi-touch attribution is going to bring a new level of clarity to reporting, but there's plenty of potential in the current reporting capabilities you may be overlooking. Optimize your current reporting and test HubSpot to see just how granular you can get. Once you're at that point, multi-touch attribution reports can serve as a complementary report, not a standalone one.
Sales Hub Pro is Getting a Facelift
Not going to lie, there are some genuinely hype-inducing Sales Hub Pro updates, like the "Buy Now" button, calculated number fields (previously a Sales Hub Enterprise exclusive), and a boost from the reporting updates we just covered. Admittedly, these are more quality of life updates that should make the dedicated Sales Hub user's life much smoother. 
But, before you get too excited over the INBOUND updates, make sure you're already taking advantage of these Sales Pro features:
Deal-based workflows –

these are huge for accountability and productivity. Prospect sitting in the pipeline too long? You can send an internal reminder to the sales team. The customer just entered closed won? You can send an onboarding email. Prospect just entered closed lost? You can rekindle the flame with an automated email in three months. The internal applications alone are enough to start optimizing your sales process.

Tasks –

speaking of optimizing your internal sales process, tasks are here to make sure no detail is forgotten. Anyone in HubSpot can assign a task for anybody to do anything, from following up with a contact on a certain date to moving a prospect to closed lost if they've been unresponsive for too long. Tasks require a uniform process to make the most happen for your organization, but they're an incredibly powerful productivity tool.

Required fields –

speaking of a uniform process (I promise I'm done with these super awesome segues), did you know you can require specific fields to be completed in order to create a deal or move it to another stage? If missing/incomplete data is an issue of any size for your sales team, you work toward a more standardized process by requiring essential data at every step of the way.
You'll really feel the benefits of the new Sales Hub Pro updates once they're working in tandem with the features above.
What Now?
The hype has probably gotten close to wearing out by now. Every moment of INBOUND has been recapped online. Whether you saw it first-hand at INBOUND or read it through someone else's perspective, it's not enough to simply have the idea — it's time to make some power moves. 
Don't let the ideas fizzle out until the next INBOUND

Don't fall victim to the hype and walk away empty-handed

Put HubSpot to the test and get the most out of your investment
Remember, you don't need to try to tackle every new update from INBOUND, especially if you're not using the core feature already. 
We Are Here to Help!
If you have any questions about the coming product updates, areas where you can improve right now, or anything related to HubSpot, get in touch with us. In the meantime, you can also refer to my ongoing HubSpot series that is covering all things lead scoring! As a HubSpot Gold Partner with the inside scoop on new features, we're ready to help you with whatever you need!