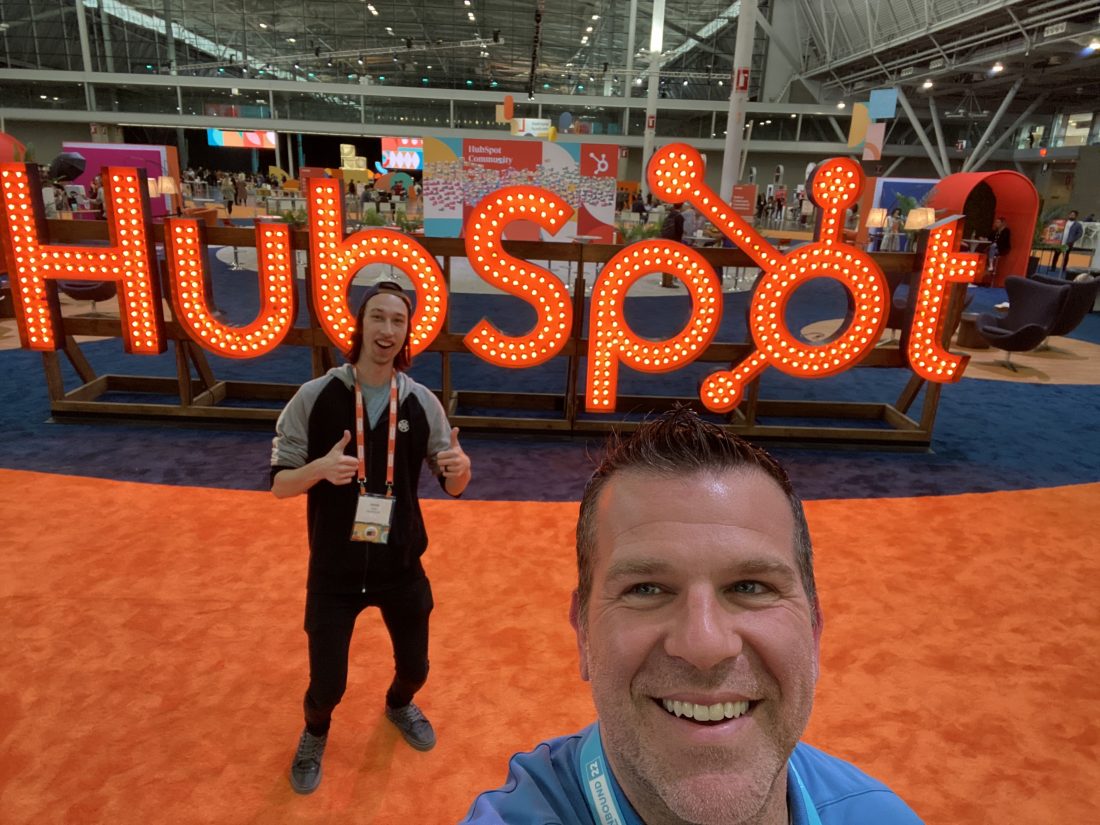 Inbound 2022 Takeaways: Let's Get Personal
Inbound 2022 was a much-needed in-person experience after three years of remote participation. My interpersonal takeaways rivaled my technical takeaways — and I am pumped!
Woah, an Inbound 2022 recap? How come nobody else is doing these!?
I've been reflecting on my second in-person Inbound experience for the last couple of weeks and wanted to share the updates and takeaways that are most exciting to me (even after getting back into the work routine).
(Rogue introspection incoming) I reread my 2019 Inbound recap to try and remember what I'm supposed to talk about here, and I have to say that it's pretty cool to see some of my evolution. Three years ago, I placed a much greater emphasis on the technical components of HubSpot.
Being new to the working world, the 'what' and the 'how' seemed way more important to me. What do I need to build? How do I need to build it? What does it have to do? At that stage in my career, I wasn't thinking too much about the 'why' of things. Why do I need to build this? Why does it need to be built this way? Why is this valuable for the people we want to do business with?
Obviously, I'm still a relative child (if a slightly older one), but I feel like I had way more appreciation for the interpersonal takeaways and the overall theme of connectedness at this year's Inbound. I love that HubSpot is taking the lead in this human-first approach and sharing it with their audience from the main stage. For the Inbound attendees who just want to listen to someone tell them exactly how to write the perfect email subject line or how to jump to the No. 1 SERP result overnight, I hope that Inbound 2022 provided far more perspective and insight than they were anticipating.
Wait, is this my diary now? Diary of a Different but Still Wimpy Kid?
Anyway, here's a mix of interpersonal and technical Inbound 2022 takeaways that inspired me (with something sweet in the middle):
Interpersonal Inbound 2022 Takeaways
I'm going to start with the more abstract takeaways, but feel free to jump right to the more technical takeaways for product updates and such!
Customers want to be helped, not led
This is old/perpetual news, but buyer expectations are changing. We're sick of hearing about the pandemic, but it has changed our thoughts — and preferences — around making purchases or filling out paperwork online (especially when there's no human contact involved).
Our B2C readers already know this and hopefully have been taking steps to better cater to digital preferences for a while now.
Our B2B readers may not have this on their radar, but they should. Like Marcus Sheridan said, changing preferences and buyer journeys don't mean that all current processes are out, the sales team is no longer needed, and the buyer will always come to you with exactly what they need at exactly the time they need it. The buyer is still looking for reliable sources of insight and clear direction — they just don't want to be required to go directly through a salesperson to get it (at least not until they're ready to do so).
We are all humans trying to connect with other humans
That's just what the government wants us to think, am I right?
In all seriousness, Jane Goodall saying that "she knows who she is" when asked how she handles her split life (Jane, the person and Jane, the icon) is probably one of the most gangster things that has ever been said. At the end of the day, she realizes that she, just like everyone else, is just as human as everyone else.
So why should we attempt to engage with customers otherwise?
This is a big enough (and well-deserved) shift that even Google is adjusting. In case you missed the helpful content update, Google is focusing on people-first content. SEO is not dead. Keyword research is not dead. But your reasoning behind these efforts should be to provide value and answers to searchers in a format that is easy to extract. Just like your content should be people first and Google second, your lead intake and nurturing should be people first and your business second.
You shouldn't have to tell people to treat each other like humans, but I think it's easy to lose sight of the ultimate end goal when so much of your time is spent building and managing your marketing and sales efforts. However, there's no free pass for working to serve yourself and your company instead of the customers you're trying to help — and today's customers are getting better and better at seeing right through you!
Contextual, meaningful engagements replace the next 'greatest thing'
In the business world, it's natural to seek out the next trend or platform that will produce serious short-term returns. It's tempting to jump on every social media platform and deploy a series of "growth hacks" that focus on growing your business instead of growing your impact. As we all know, if everyone is talking about it already, the prime time to act has already passed.
It's no revelation, but genuinely caring about the impact you have on your customers (and the world) will serve you better than any platform or tactic ever could. And there's no faking it; the ones who try to give off this impression in an attempt to profit from it never get far. If your goal is helping others — regardless if they buy from you — and that goal is apparent in the content you create and the conversations you have, you will see an awesome response.
I know, I know. It sounds like I've watched one too many Gary Vee videos. I'm just encouraging you to focus on the 'why' and fight to understand the wants/needs/fears/challenges of your audience and how you can best connect with them to help. You can figure out the actual marketing and sales strategies from there, once you build the foundation of being ridiculously helpful without the expectation of business in return.
Quick Break…fast
I'll give you a minute to process the stream of consciousness above.
Now, imagine that you're in downtown Boston and you're trying to find a cool breakfast place. You happen upon a highly rated restaurant called My Diner and make the 15-minute walk across overgrown sidewalks surrounded by construction. You arrive at My Diner (automatically assuming ownership as soon as you open the doors) and climb up to the third floor of an office building, your nose guiding the way. You are presented with two choices:
Which plate would you choose? I'm still thinking about that French Toast.
Technical Inbound 2022 Takeaways
HubSpot has been super busy! Here are the product updates that I'm most excited about.
Customer Journey Analytics (Beta)
HubSpot has always had strong reporting tools in terms of data collection and analysis, but data visualization for stakeholders who aren't in the weeds has been a challenge. While it is a Marketing Hub Enterprise feature, the new customer journey reporting tool seeks to visualize the end-to-end, cross-channel journey of a contact's engagements with your business.
You get to define the events and touchpoints within the report to gain a better understanding of their conversion influence and significance in your overall customer journey.
I'll be honest, I'm not sure if this update will be an instant justification for upgrading to Marketing Hub Enterprise, but I think it does set the stage for more in-depth attribution reporting that could be available at lower subscription levels.
Simplified Custom Object Builder (Beta)
HubSpot's introduction of custom objects and relationships have enabled HubSpot users to store actionable data beyond contacts, deals, and companies. However, a HubSpot developer was usually required to create and maintain custom objects…until now (well, almost now since it's still in Beta).
The crowd was pretty hyped when HubSpot unveiled their no-code custom object builder at the Enterprise level, giving non-developers the ability to create and manage their own custom objects.
This may be a bummer for non-Enterprise users, but we may see HubSpot introduce some light features at lower subscription levels over time.
HubSpot User Impersonation
Apparently this was an old update that I missed until it caught my eye on a rolling updates screen! Looking at the HubSpot Knowledge Base article, this update came around March of this year.
As user-friendly as HubSpot is, it can be difficult for some users to configure and navigate their personal settings (like saved views, notification settings, profile settings, etc.). Instead of trying to coach someone over the phone/Zoom or getting their login in, you can access their user profile and make changes for them — as them.
Need to update their signature? You can do that.
Need to reset their contact record default properties because they accidentally changed something? You can do that.
Want to see how HubSpot looks from their perspective? You can do that.
I think this update will make life easier for all HubSpot admins!
Data Quality and Standardization Tools
As we stress the importance of contextual, relevant engagements with our customers, we need to make sure that we have accurate data supporting those efforts. But as much as we understand the importance of clean, complete data, it is nearly impossible to attain without a dedicated team of data police. Here's how HubSpot will support you in these areas (side note: if you've been wondering why the Operations Hub is even a thing, these updates should let you know:
Additional CRM Customization
In the spirit of contextualizing your HubSpot instance, we're also seeing several updates to how you can manage your HubSpot setup, including:
Right Sidebar Customization — We've had the ability to edit the pinned properties on the left sidebar on a record for a while, but now we can also customize the record association on the right-hand side. And if you have an Enterprise subscription, you can assign these views by team.
Customizing Record Overviews (Beta) — HubSpot tracks a ton on the record page, so it can be difficult to narrow down to the information you need. This update allows Professional and Enterprise users to configure the overview cards, data highlight cards, and association tables for each record type.
What Next?
HubSpot is absolutely committed to helping you create contextual conversations and experiences that delight customers, but your underlying process and approach to the buyer journey will determine your success. I encourage you not to simply jump on new technical updates but to first reflect on your current lead intake and nurturing processes. Do you feel connected? Do you feel like you're gathering and leveraging the right context? Do your leads seem like they're gaining value from every interaction with you, not just hearing a sales pitch?
If you have questions about any product updates or are looking to get more connected with your audience, get in touch with us!