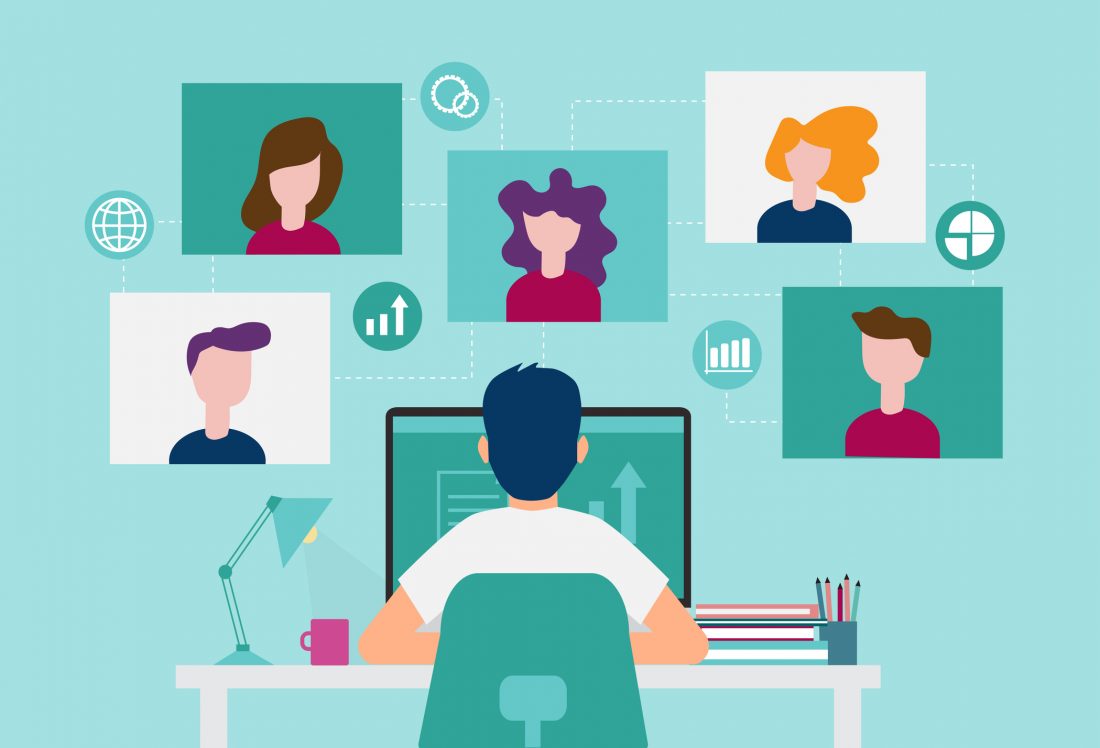 Our Virtual INBOUND 2020 Experience and HubSpot's New CRM Updates
As a HubSpot Platinum Solutions Partner, we've previously talked about HubSpot's annual INBOUND convention as our HubSpot Partner Super Bowl, or as us living the marketing dream in Boston. The trip to Boston is always exciting for us, usually featuring multiple lobster dishes and thousands of other inbound marketers geeking out over empowering speakers, new tactics, and the latest HubSpot software updates (the INBOUND 2020 CRM updates they announced are pretty amazing, but we'll get into those later).
Like most events this year, INBOUND 2020 has been a bit of a different experience, with virtual sessions coming between household activities like at-home kindergarten classes, taking care of pets, and trips to the post office.
But there were benefits to moving the experience online this year, one being that more people were able to attend from around the globe. With no travel costs, access to content translated into multiple languages, and experiences scheduled across different time zones, 2020 was HubSpot's most inclusive INBOUND conference.
Another benefit was that HubSpot was able to extend its 2020 speaker list beyond those who could make the trip to Boston for INBOUND, allowing them to include even more powerful speakers like EGOT recipient John Legend and Bob Iger, Executive Chairman of the Walt Disney Company. The HubSpot team is looking to replicate some of these unique and inclusive experiences in more conventions down the line, and they envision an INBOUND 2021 with a mix of in-person and online components for the best of both worlds.
Even with the added benefits of the virtual convention, we still missed the energy of being surrounded by thousands of other inbound marketers this year, and can't wait to reconnect in-person with the inbound marketing community when it's safe. Despite the differences, one aspect of the convention remained the same: the mutual excitement of all attendees around the announcement of INBOUND 2020 CRM updates.
The HubSpot team has still been working hard during the pandemic to prepare intuitive, powerful, and easy-to-implement updates, including, most notably, a relaunch of Sales Hub Enterprise. We're excited to share these updates with our clients, especially because many of the limitations they address are directly related to concerns that our clients have shared with us in past conversations about HubSpot's CRM.
HubSpot Enterprise customers are now able to use the INBOUND 2020 CRM updates to leverage their sales and marketing data in more customizable ways, better supporting their business activities and goals. If you want an in-depth look at all of the updates, visit HubSpot's website, but we'll highlight some of our favorite features below.
Match Your CRM to Your Business with Custom Objects
Until now, the lack of custom object options in HubSpot's CRM has been one of the biggest reasons why businesses would choose Salesforce over HubSpot to store their data and contacts. Now that HubSpot is adding these to its CRM, it has better capability to be an all-encompassing stand-alone CRM tool, or to become more deeply integrated with other tools like Salesforce.
Custom objects now allow businesses to go above and beyond HubSpot's set of standard objects — which are contacts, companies, deals, tickets, and products — to track whatever most suits their needs. Examples include orders, shipments, subscriptions, events, or anything else you can imagine. You can also edit, automate, and run reports on data for custom objects, just like HubSpot's standard objects.
More good news is that HubSpot's marketing automation tools, sequences and workflows, are also improving, providing you with more customized options for automated tasks, outreach, and reminders related to specific groupings of standard or custom objects.
The major benefit of custom objects is they allow you to customize HubSpot to match exactly how your business operates. Using this tool, you can track every piece of data your business needs in one convenient place, using the specific concepts and language that your team already uses to talk about your business day-to-day.
Custom objects, alongside the other INBOUND 2020 CRM updates, also allow you to get a more accurate look at business health, by running reports on the specific components of your business to gain valuable insights.
Fuel Your Account-Based Marketing with CRM Updates
HubSpot's account-based marketing tools are getting a facelift, which is essential in today's marketing climate, where your potential customers are tired of being inundated with irrelevant and repetitive marketing messages. The best way to overcome these challenges and disrupt the market is to personalize and prioritize customer experience. This is where account-based marketing (ABM) comes in with software that helps you to identify, target and sell to high-value accounts, by helping you meet their individual needs.
HubSpot's new Target Account Home feature allows seamless collaboration between your marketing and sales teams so they can work together to win large accounts. The Target Account Home puts all of your account-related sales and marketing data in one easily accessible place, which allows you to easily track detailed information about all engagements your team has with individuals associated with these accounts.
And the helpful features keep coming! AI-powered recommendations ensure you never miss an opportunity with a high-value account. Account-level targeting was also added to HubSpot's LinkedIn ads integration, which lets businesses target social ads based on their target account status in HubSpot. Additionally, the detailed, easy-to-read, and customizable ABM data provided by this new tooling informs and allows you to refine your strategies moving forward.
Show Your Sales and Marketing Teams Only the Data They Need
Permissions and protecting data have been common pressure points for our clients in decisions on data-storing software, so we're very excited that HubSpot is ramping up its permissions feature along with the INBOUND 2020 CRM updates. Specifically, HubSpot is adding more depth to their permissions settings to protect the information you're storing and to keep the data your team members need clean and free of distractions.
New field-level permissions, asset partitioning, and record customization options help you to manage data access across teams. Here's how each of them works:
Field level permissions protect data by offering administrators complete control over which team members can edit objects and assets
Asset partitioning makes sure that team members only see data relevant to their specific roles
Record customization allows administrators to create custom layouts to best suit different teams' needs and functions for ease of use and adoption
Note that while asset partitioning and record customization are available to HubSpot Professional customers and above, field-level permissions are only available at the Enterprise level. With these three tools together, you can rest easy and operate more efficiently, knowing that sensitive sales and marketing information is fully protected and relevant data is presented effectively to every team member.
Use INBOUND 2020 CRM Updates to Disrupt the Market
In 2020, businesses win and grow based on the customer experiences they provide. The new and improved HubSpot Sales Hub Enterprise can help you refocus your business on customer experience by providing a deeply powerful CRM that doesn't compromise ease-of-use. That's why HubSpot is currently the top ranked CRM in user satisfaction on G2 Crowd, ahead of other CRM software like Salesforce.
If you're ready to supercharge your CRM use to streamline operations and grow your business, let us know. We're a HubSpot Platinum Solutions Partner and are here to help.