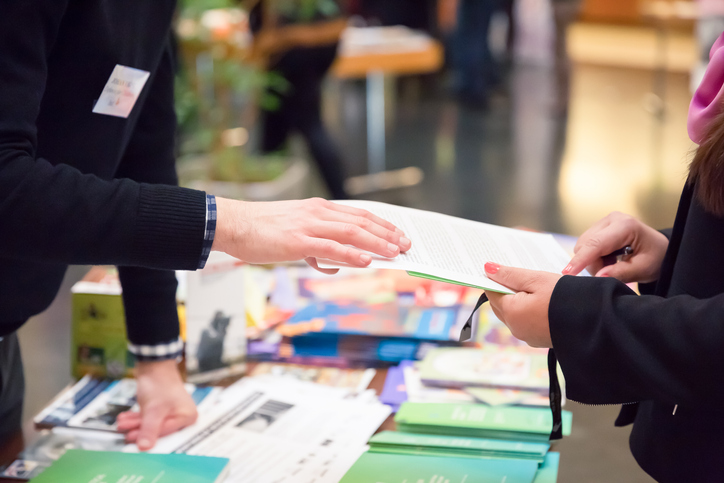 It's time to fine-tune your trade show marketing strategies as in-person events are finally on their way back into the forecast for many industries.
In the United States, this belief rests upon the work done by a vaccination effort that has led to more than 53 percent of the population receiving at least one dose of the COVID-19 vaccine in the last six months. As those efforts have ramped up, the prospects of returning in-person events — like conferences, trade shows, and conventions — have continued to grow.
Due to improvements in the fight against the pandemic, and growing fatigue with fully virtual events that became the norm over the last 15 months, many event planners have now begun plotting out in-person events. People are ready to get back to planning and executing live shows in 2021, as long as they feel it can be done safely.
A January study from the Las Vegas Convention and Visitors Authority found 91 percent of surveyed business travelers miss the face-to-face interactions that come with conferences, conventions, and trade shows, while 58 percent felt burned out from the onslaught of virtual meetings and conferences that have replaced them.
But the virtual-only option is nearing the end of its shelf life as event planners are investing in the return of in-person events in the near future. According to Northstar Meetings Group's PULSE Survey in March, 81 percent of meeting planners will hold their next in-person event this year — with most (60 percent) coming in the second half of 2021. A full third expect to have a virtual component to these events, and hybrid event (both in-person and virtual) planning will remain a constant in the near future.
The return of such events will provide a reservoir of inbound marketing opportunities because they offer those moments of human connection. No matter how personable your content is, it's still only content. You can't get to know a blog post, chat up an email, or grab lunch or a drink with an infographic. When a personal connection is established with leads, communication is easier and often more rewarding for both parties.
So as you prepare to wade back into the in-person event waters with your badge and your lanyard, there's plenty of things to keep in mind to help you implement trade show marketing strategies. Read on for tips you can implement before, during, and after the show to capitalize on ongoing lead nurturing during these in-person events.
Before You Go
There are many things you can do prior to your attendance at a trade show or convention to lay the groundwork for a successful event in terms of developing contacts and leads. Using the inbound marketing tools at your disposal, you can set potential meetings and data tracking parameters before you ever step foot on the exhibition floor.
Do you have a list of email contacts from a previous trade show, or perhaps this same event from a year ago? Email them ahead of the next show to let them know you're coming back, where your booth might be, and make them aware of any giveaways or promotions you might be doing for the upcoming event. You're eager to return to trade show marketing and all that entails, and your contacts likely feel the same way and will be looking to fill their own calendars during the show as well.
Prior to the show, you'll want to create a show-specific landing page to drum up interest, aid in setting up meeting times, and capture lead details. Creating custom URLs for flyers or handouts you have for the event will let you know if people follow up, and doing the same for pre-show advertising can help you measure traffic. Don't forget to work in UTMs to your pre-show efforts to further gauge and measure how and where your audience is finding your messaging.
During the Show
All right, you made it to the convention center/trade hall/meeting space. You've made arrangements with contacts prior to the event; still fit into that impressive suit you haven't worn in months; and you're ready to network, interact, and further develop relationships as you employ trade show marketing strategies. The bulk of your time at a trade show, or a similar experience, should be spent working your booth (if applicable), following up with previously arranged contacts, ferreting out new contacts, and stretching out those networking muscles that may have grown rusty over the last year or so.
Still, there are a couple of key things to remember from a lead nurturing perspective in between the walks through the exhibit hall, breakout sessions, and casual meetings in the hotel bar or restaurant. First, bring an iPad (or similar tablet) to the event and use it to directly capture contact information. You (or your team) can directly input the contact information into such a device instead of simply taking a business card. This will allow for instant verification of email through an automated reply on that form submission and will cut down on the tedious task of imputing a host of business cards in a similar fashion after the show.
Also keep in mind that while you will meet (hopefully many) prospects who are eager to further their business with you, some prospects will fall into the 'not hot' category. Instead of trying to force them into the sales funnel, have a plan in place to continue to develop the relationship with them. Get them to sign up for your ongoing email newsletter. Offer a downloadable containing relevant information for their particular stage of the buyer's journey. Offering ways to engage with prospects, who may not be on the precipice of a decision yet, is one of the many reasons you're attending.
Once the Show Ends
You made it through. You gathered a ton of new contacts, re-engaged with old friends and colleagues, and used both pre-show and in-show techniques to nurture leads in a wide spectrum of customers at different stages in the buyer's journey. What now? Trade show marketing strategies don't end when the show does.
Most importantly, you'll need to have a set plan for all those leads — new or refreshed — gathered during the show. Which ones will go toward lead nurturing efforts? Which ones will be directed immediately to sales?
Create custom properties in your CRM for all those you met or interacted with at the trade show. The custom properties will help you identify these contacts and track their progress outside of other parameters. You can then measure the results from these contacts six, nine, and 12 months later to learn about the rate of return on these interactions and how trade show leads measure against other segmented groups.
It's also essential to follow up with a post-show email for everyone who visited your booth or discussed potential business opportunities with you at the event. Simple, friendly, and to-the-point emails for the Monday following a convention or conference are a great way to differentiate your business and show your interest and commitment to fostering an ongoing relationship.
Make the Most of Trade Show Marketing Strategies
As with 2020, the rest of 2021 will still be a bit of an unknown for the trade show industry. NgageContent, like everyone else, has learned many lessons over the last 15 months. And like most, we're also encouraged by the many positive signs that point toward in-person events returning throughout the second half of the year and certainly by early 2022.
However, these events will still be colored by the scope of the pandemic. There will be new policies and procedures in place to help ensure the health and safety of those who attend. Will hybrid setups — with both in-person and virtual settings at the same event — become the norm? What will attendance be like, particularly with the events that are first to return? What trade show marketing strategies will emerge in this new environment?
By staying patient, flexible, and diligent, all businesses that rely on the networking available at in-person events can be ready to make the most of these returning opportunities. And by identifying key tasks to accomplish prior, during, and after the event, you'll be able to supplement and build on everything traditional shows and events brought in the past.