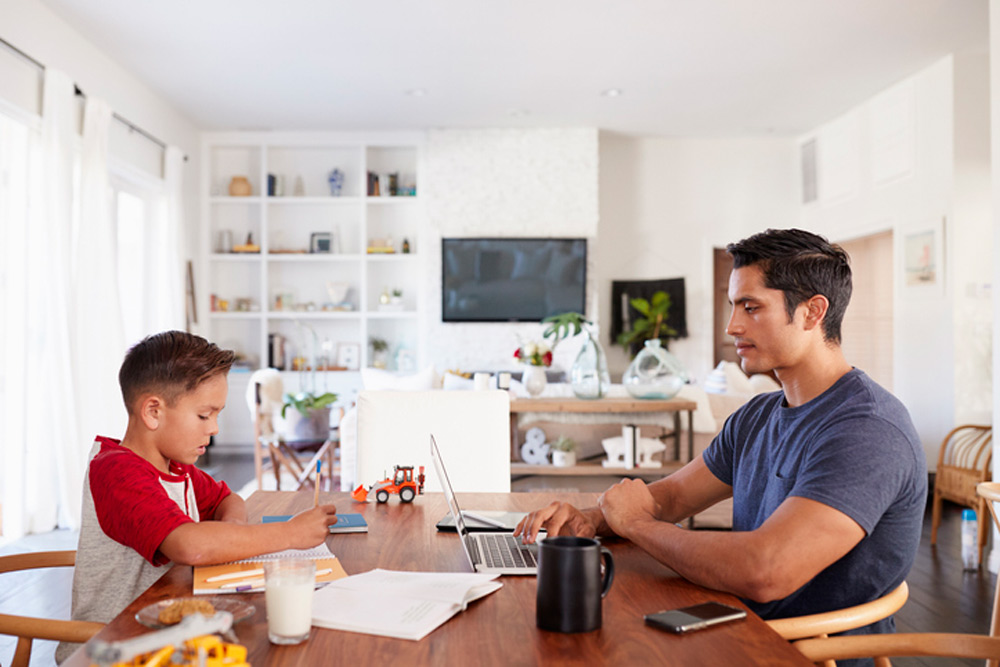 Putting in 40 Hours a Week Can Be Hard for Anyone
Flexibility in the work environment is crucial nowadays as you have your daily commute to and from the office with variables in traffic, weather and unexpected detours that can derail your day. Then, once you get to work, you need to try to declutter your mind and focus on being productive.
But, we all know how office culture can be. Maybe you get dragged into an unexpected meeting or get caught up at the water cooler for multiple conversations each day.
You also have your personal life to worry about, with things that need your constant attention — from picking up the kids to the health of loved ones and everything in between.
Needless to say, being in the office five days a week can put a real constraint on your life and time.
Some employees may feel that they might not have enough PTO or sick days to even take care of themselves, and it can severely affect their well-being. Whatever the reasons may be, it's apparent that more of us would like a little more flexibility in our work environment, and there's evidence that this is actually a good thing for your employees.
Advantages for Employees
For employees, the advantages of having flexibility in their work environment are plentiful. To start, the things mentioned above, like taking care of family members, are easier with this type of work model.
In some instances, employers may even allow employees to work the hours that make the most sense for them. That means if you feel like you're more productive in the morning, you can begin your day then. If you are more of an evening worker, you can focus on working outside of the traditional 9–5.
Flexibility also allows you to meet family obligations. As a parent or even a pet owner, you can have the ability to stay at home and work while watching over those family members.
Working from home also means you will spend less time commuting, which in turn means less money spent on gas and takes away the stress of a drive during the morning rush.
While working from home or on your own terms may seem odd at first, once you figure out your production schedule, you'll soon feel the advantages yourself.
Advantages for Employers
Flexibility is one of the greatest ways to empower your team. You're letting them know that they are a valued member of the team and that you trust that they can get their work done without having to constantly be under surveillance.
For an employer, allowing flexibility in the work environment is just as beneficial for you as it is for the people who work for your company. The main advantage here is that your employees will be healthier and happier for having more flexibility in their work environment.
Giving your employees the option of working remotely means you'll have access to a wider pool of applicants and improved retention. Without the daily commute, your team can begin work right away from the comfort of their own home without much worry about how their day will begin.
This also allows your employees to work in a way that works best for them, which will increase productivity and drive results for your business.
How to Manage Remote Workers
While this may seem well and great, as an employer, you may wonder how it's possible to manage a remote team. Luckily, it's easier now than ever. With web-based apps like Slack, Basecamp, Google Drive, and more, you can constantly stay connected to your team.
Slack allows your team to communicate one-on-one or in channels together. You can arrange team calls, personal calls, and share docs and information with ease.
Basecamp acts as the extension of your project manager. Keep all of your work files and information in one location so everyone on your team always knows where it is.
Google Drive enables you to work, share, and edit live, so you don't have to go back and forth on making updates or making suggestions on another platform like Word.
Things to Remember About Remote Work
While you may be hesitant about letting your employees work remotely after your business has never been run that way, remember, you don't need to take an all-or-nothing approach. Finding the balance between working in the office and at home to make you and your employees happy will need to begin on a trial-and-error basis.
Maybe you start by allowing everyone to work at home on just Mondays or Fridays. Then, maybe you expand that out another day or two. Whatever you decide, just know that for most people, this will be new, and a learning curve in communication may happen.
That's why it is important to implement some guidelines on allowing that freedom but also making sure your employees understand they do need to be present during the workday.
At NgageContent, we've found a system that works best for us. Using those web-based apps and more has given us the ability to be productive and happy as a team. Through trial and error, we have discovered what works best for our business with the model of two days in office, and three days remote.
Of course, flexibility means that even on days when we are remote, some members of the team may still come to the office for a meeting or even drive elsewhere to meet a client. This approach has allowed us to cultivate a culture of happy, healthy, and productive employees.
Ask us for more tips if you decide you want to try this model for your business.