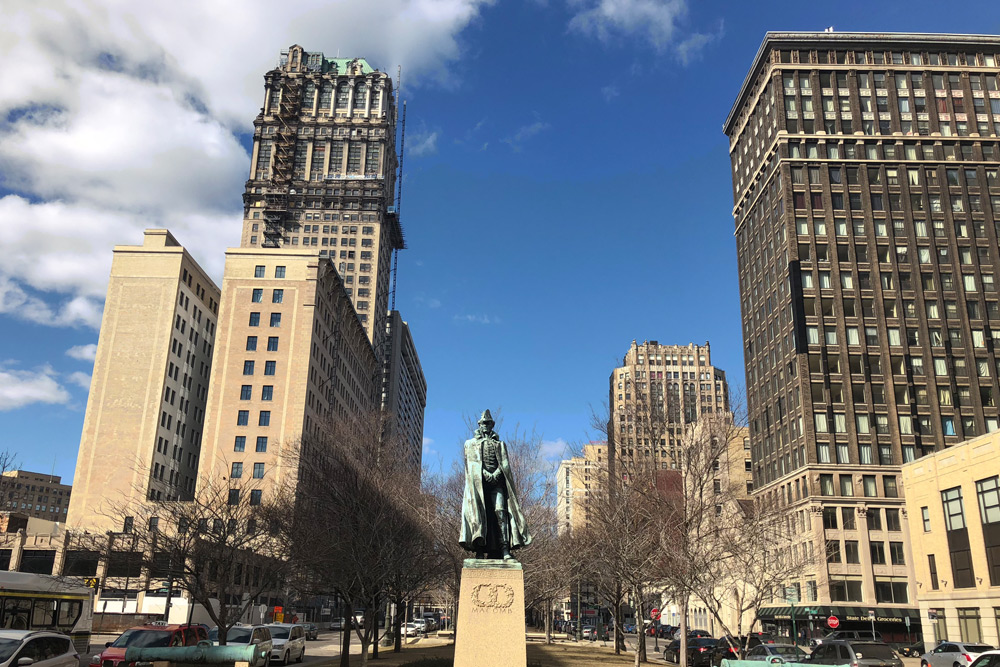 Always seeking to grow our knowledge and connect with other like-minded social and content marketing rockstars, the NgageContent writing team traveled to downtown Detroit late last week for Everything: Content + Social — a one-day conference powered by Digital Summit with the latest insights in content and social media marketing.
Digital Summit is a nationwide series of conferences focusing on digital marketing and everything involved with it — social media, content, SEO, inbound, user experience, email marketing, branding, and more. Everything: Content + Social provided a deep-dive into two of NgageContent's favorites: social media engagement and storytelling in content marketing.
A common theme that surfaced throughout both subjects was connecting with audiences in meaningful, purposeful, data-driven ways. Let's take a look at some of the highlights.
People Don't Follow Ideas — They Follow Passion
Insights from Eric Thomas, Saga Marketing, @Eric_S_Thomas
In Telling Human Stories: How To Harness Culture In Marketing, Eric Thomas discussed how people tell stories and how they can be told more effectively in marketing. It can be easy for audiences to get lost in the noise of promotion — becoming stagnant and not taking the actions that we as marketers are trying to get them to take.
Citing examples of brands with millions of followers yet so little engagement (and contrasting them with passionate influencers that utilize emotion and real human interaction), Thomas dropped some powerful insight on how to cut through the clutter and engage with the people you're trying to reach: people don't follow ideas, they follow passion.
One of the best ways that brands can make social media and content work for them is by following a simple truth: keep it people, people. "People want to buy something from someone that gets them. Connect with people, and remember that you're people, too."
Use Research to Get Attention
Insights from Michele Linn, Mantis Research, @MicheleLinn
Tying in with the importance of connecting with audiences, Michele Linn shared how original research can help brands rise above the noise and increase engagement. Citing BuzzSumo's research finding that social sharing of content has been cut in half since 2015 (and another frightening statistic that 70% of all content published in 2017 resulted in zero inbound leads), Linn argued the need more than ever for original, authoritative research in marketing efforts.
"Authoritative research and reference content are the two types of content that get the most links and shares, yet only 37% of marketers are using original research. Original research is what you use for public consumption — not market research, reader surveys, or anything internal. Original research helps create backlinks, which are critical to authority and helps prove value."
Linn reviewed her four-step research process on how brands can create original research while also turning it into effective content that gets results. "Part of the reason why data and research work well as cornerstone content is because they're versatile. The potential is limitless."
Using Analytics to Deepen Engagement
Insights from Dan Gilgoff, National Geographic, @DanGilgoff
Continuing the theme of researching and understanding audiences, Dan Gilgoff, Executive Editor for Digital at National Geographic, drew connections between digital journalism and digital marketing and discussed the use of analytics to identify the content that audiences want the most.
In his example, certain NatGeo stories performed significantly better than others. Thus, analytics revealed the unique value NatGeo can focus on — and the value its audience expects. Gilgoff also noted that just because a piece of content isn't performing as well as others doesn't mean it should be ignored. No, it simply means you should take a new approach to that content and compare to determine what works and what doesn't.
He also emphasized the value of "teaching analytics to the messengers." Why spend all your time building new traffic when you can focus on the traffic you already have and take it even further? Identify what's working now, expand upon it, and continue to use analytics to refine the content and approach. Through this, we can better understand the people we're trying to connect with and continue to build those relationships.
Finding Engaging Content for Your Brand
Insights from Amy Greber, American Red Cross, @AmysWrite
Engaging with your audience is one thing, but first, how do you even begin to find content to create or share? Amy Greber, Senior Director of Social Engagement for the American Red Cross, shared her three-pronged strategy for identifying content sources and leveraging existing audiences and sources: 1) coordination, 2) sourcing and 3) community.
Content coordination involves relying on subject matter experts (SMEs) and other internal team members for ideation, maintaining communication and processes to ensure that content is being worked on, and providing resources and success metrics that allow for additional content creation.
Content sourcing focuses on identifying your strongest content based on what your audience historically likes, asking audiences what they'd like to learn, leveraging success stories from within, riding the relevance wave, and strategic relationships.
And finally, leveraging your community for content by building and empowering your online communities, so they share your content, provide feedback and perhaps, in turn, create new content for your organization.
Creating the Right Content for the Right Channel
Insights from Lorraine Goldberg, AllRecipes.com, @VoraciousGirl
As marketers, are we sharing the right content through the right channel? What makes sense for one channel might not make sense for another — and that's critical to ensuring that audiences engage with that content in a way that helps marketers achieve their goals.
Lorraine Goldberg of AllRecipes.com shared some powerful insights for ensuring the content we create is in fact content that works.
First, we must always remember that content marketing is 100% audience first. What we create has to authentically reach audiences. Doing that isn't as complex as we might think. Being data-informed and channel-specific allows us to speak to audiences where they are and is a way that deepens brand loyalty and engagement.
Next, visual storytelling is crucial. We only have three seconds to grab attention, so focusing on visual content like video, infographics, and pictures (the real stuff — not stock photography) can help capture the interest of our audiences.
Finally, understanding the channel we're sharing content in can make the difference between content that works and content that falls flat. Marketers should focus on creating specific goals for each channel and creating the content that meets the needs and best practices of those channels. But it doesn't end there. Marketers need to constantly test and use learnings from each channel that can apply to others. Those insights can lead to further ideation.
Understanding Intent to Satisfy Searchers' Content Needs
Insights from Grant Simmons, Homes.com, @simmonet
Homes.com VP of Search Strategy Grant Simmons took the stage to share the value of understanding the types of query personas (the categories of internet searchers and what types of searches they're performing based on intent) and properly formatting content to satisfy their intent.
Simmons shared a variety of search personas, ranging from the trivia query persona that asks broad questions to the superlative query persona, which uses superlatives (the highest degree in a list of adjectives or adverbs, like the word "highest" that we just used) to identify the best of something.
Simmons also shared some best practices for creating a content strategy that satisfies the intent of each query persona. Marketers must research queries, understand the intent behind them, create the appropriate content that answers the query, and — above all — not piss people off. Showing expertise in certain areas to build trust in the audience is critical to success.