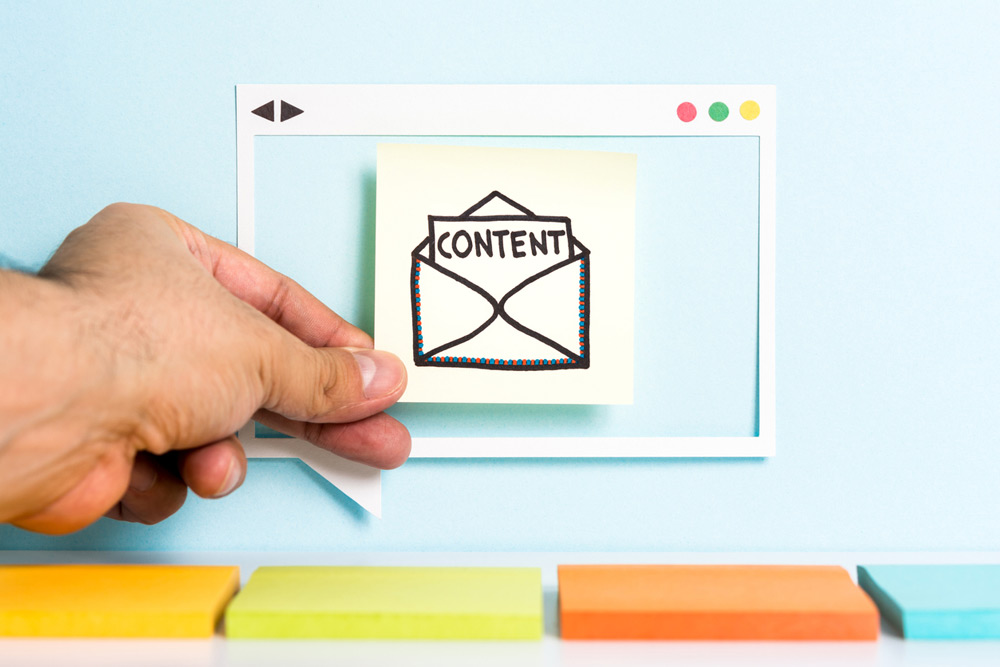 It's that time of year again — we shipped our content crew and one half of our design team out to the Motor City to spend a day learning from some smart people at Everything: Content & Email in downtown Detroit. We love this event because it brings together some of the best speakers in our industry to talk about current trends and what we need to be paying attention to this year. Check out our post from last year's event, and also our post from their big two-day event to see what we've learned in the past.
This year, a prominent theme of Everything: Content & Email wasn't so much on what content and email marketing are or how to do them, but rather on what they should achieve for those we help. "It's our job to take care of the needs of our customers," said Jim Edwards (@jedwardsA2) of Spry Ideas. "Content isn't what it is — it's what it delivers." Throughout the day's content sessions, that delivery was connected with the stages of a buyer's journey.
Kelsey Cohen (@kelseymaybe) of Bloomscape and Edwards emphasized the connection between the content that companies produce with where buyers are in that journey. This shouldn't occur only at the top of the funnel, either. It should occur at every level: top, middle, and bottom. How can content (whether you're producing for your business or you're working with a partner for support) guide prospects from awareness and consideration to decision and delight?
The first step (and another recurring theme at Everything) must be developing a strategy. Content should not be developed for the sake of having it. It must be planned out and tied back to your short- and long-term goals. It must be carefully monitored for performance, updated and re-promoted as applicable, and even removed if it's not performing (because if it remains in use, it's distracting your audience from better-performing content).
The strategy shouldn't cease once a prospect has become a customer, either. A one-time deal doesn't mean you've reached the end of the opportunity. Engaging your customers on an ongoing basis should be part of your content strategy — particularly with email. Jen Capstraw (@jencapstraw) of Iterable emphasized re-engagement to keep prospects moving through the funnel and to get customers back in for another cycle. While this is a standard in B2C eCommerce to win additional purchases from existing customers, it must be part of a B2B content strategy as well.
April Mullen (@aprildmullen) of Selligent spoke on the impact of including artificial intelligence (AI) in your strategy, and how it can have an impact on your email engagement levels. With AI, companies are now able to offer highly-personalized content recommendations for their contacts based on the activity that they've tracked on their site. AI allows your emails to be more relevant to your customers by providing personalized recommendations — whether that's related articles or products on your site — in real time.
Of course, getting hyper-personal with your email content means that you're going to need to use the information that you have on your contacts, but you shouldn't worry about how people will react. Consumers are actually expecting you to use their personal information! With just about everything being tailored to the individual consumer these days, about 75 percent of consumers actually don't care if you use their personal information.
Which is all to say — take your emails and go get personal.
Another point that April focused on was also mentioned by Jim Edwards — send more email campaigns to fewer people. While it might seem like a better strategy to send your emails to as many contacts as possible, both April and Jim found that targeted campaigns sent to smaller groups of people performed better.
In April's case, that meant sending more campaigns to the targeted audiences that AI allows you to create. In Jim's, it meant focusing the content on a single topic to help the audience connect more. For example, "Marketing Tools for the Beginner" will likely draw your audience in more than "Our March Newsletter" because it will feel like you're talking directly to them.
In both cases, you'll end up sending more emails, but that's not a bad thing! While you'll be sending more, the targeted emails will likely show higher open and click-through rates, even though you're sending to smaller groups. Your strategy should be focused around showing that you understand them, and you can easily do that by creating content around what they value most.
To tie it all together — whether you're looking at a new content strategy or email campaign, take advantage of your analytics tools to see how it's all coming together. Anna McHugh (@annamarymchugh) of RedHat spoke about making sure you're watching the path your user takes because it might not be the same as the one that you created. Analytics will show you how people are reaching the goal you set, and provide you a window to see the opportunities you can jump on to optimize and help more people reach the same goal. You'll also be able to see if you're reaching anyone at all, rather than leaving your campaigns to run blind.
Everything brought a lot to the table this year regarding how you can develop stronger strategies to reach the right people, not just as many people as possible. Placing more emphasis on how you can provide value to the user, both through the content you're creating and the emails you're sharing, will help you produce better overall results this quarter and this year.