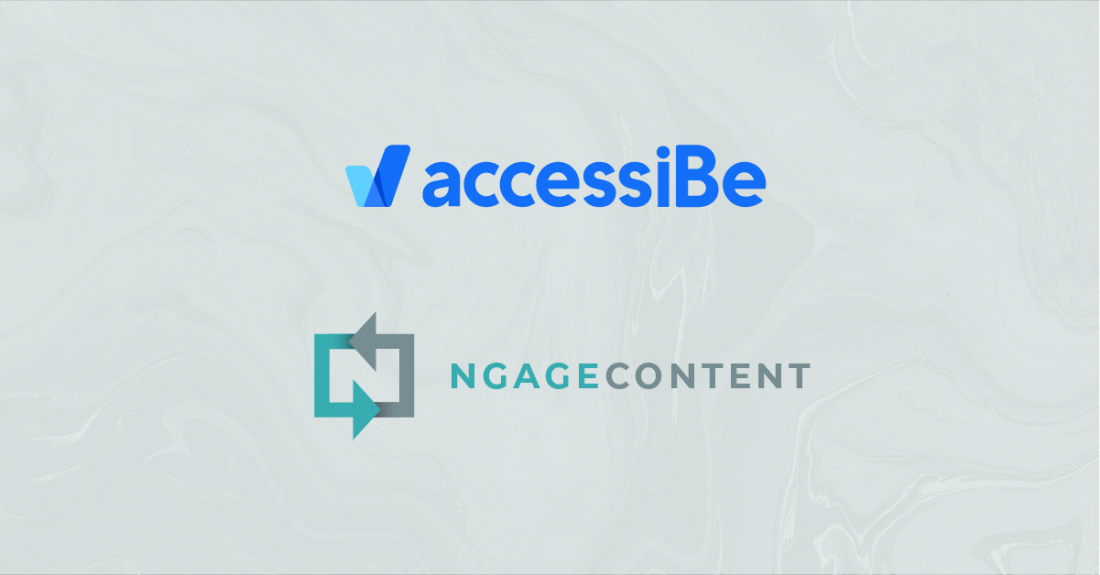 WHY WE'RE PARTNERING WITH ACCESSIBE FOR ADA WEBSITE COMPLIANCE
We're excited to announce our new partnership with accessiBe! From here on out, they'll be helping us (and you) with ADA website compliance.
If you're wondering what ADA compliance means for your website, put simply, the Americans with Disabilities Act requires you (and every other business on the Internet) to provide accommodations so that those living with disabilities can reasonably access and use your site. This means you need a number of different website features to address a variety of different types of disabilities, which can be tricky for businesses to keep up as standards change.
So ADA website compliance projects are necessary, but they can cost businesses a lot (sometimes $20,000 or more!) if they're done manually. Manual compliance projects also require constant updates as you add content or make changes to your website — devouring precious resources, especially for small- to medium-sized businesses. And if your website is ever non-compliant throughout this tedious process, you risk a costly lawsuit.
That's why we're partnering with accessiBe to solve these issues for our clients. AccessiBe is the only automatic, fully functional and cost-effective solution to ADA web compliance. If you want to know more about who they are, what they do, and why they do it, they explain it all better than we ever could on their website. And if you want to see their tool in action, check the right side of any page on our website. We love it so much, we're using it, too!
ADA WEB COMPLIANCE & WCAG — WHAT ALL THE ACRONYMS MEAN FOR YOUR ONLINE PRESENCE
Legislation surrounding website accessibility can often be dense and confusing, so let's get technical for a minute. The main legislation U.S. companies will want to pay attention to is the ADA, or Americans with Disabilities Act. Accessibility legislation like the ADA has led to the enforcement of an international standard for online accessibility, known as WCAG (Web Content Accessibility Guidelines) 2.1.
WCAG follows four main principles: ensuring all websites are perceivable, operable, understandable and robust.
Perceivable websites have elements that everyone can experience through their senses.
Operable means that a website is easy for everyone to navigate, even those with motor and other disabilities.
If a website is understandable, it's devoid of any too technical terms and hard-to-follow instructions.
Robust websites are built-out and optimized for use to their fullest extent, including compatibility with assistive technology like screen-readers.
AccessiBe operates at and above the accessibility level required by legislation to offer a user-friendly experience to disabled populations.
WHY AUTOMATIC AND COMPLETE ARE NOW TWO OF OUR FAVORITE WORDS
AccessiBe uses world-leading technology to ensure automatic and complete ADA web compliance. Automatic, meaning after an easy set-up with a single line of code, it does its job consistently without taking up additional time, money and energy. It'll update on its own with all of your regular web maintenance, so once it's up and running you can rest easy. Complete, meaning it does everything it needs to and more, protecting you from costly ADA website compliance lawsuits down the road. It also works great with WordPress (case in point: our site), so it'll be easy to add to any websites we've built for you.
How does it do all of this? After installation, an accessibility interface appears, allowing users to adjust design and functionality to their individual needs. Simultaneously, an AI background application provides capability of complex tasks like working with screen-readers for the visually impaired and offering keyboard navigation for those with motor disabilities.
Through these two interconnected tools, AccessiBe makes websites fully compliant within 48 hours of installation. It also re-scans sites every 24 hours for constant automatic maintenance, so you shouldn't have to worry about it ever again.
DON'T RUN FROM THE LAW, FOLLOW IT!
ADA web compliance lawsuits are rising steadily every year at a rate of over 200%. AccessiBe protects your company from becoming a part of this growing statistic. Having an inaccessible website is a liability to any company, but is particularly risky for small and medium-sized businesses who can't afford a costly settlement. That's why it's more important now than ever to make sure your website is always up to date with the latest standards for accessibility.
GROW YOUR BUSINESS AND SERVE DISABLED COMMUNITIES — IT'S A WIN-WIN!
As our lives become more virtual (especially nowadays because if you're like us, you don't leave the house for weeks at a time), inaccessible websites exclude those living with disabilities from engaging in normal social and buyer interactions. This severs the connections between businesses and disabled communities (up to 26% of the US population), hurting the quality of life for disabled people and your bottom line at the same time. That's why it just makes sense for us to partner with accessiBe to help your company grow while providing meaningful online experiences for those with disabilities.
AccessiBe gives disabled communities consistent and reliable access to your website, including:
Individuals who are blind or visually impaired, through compatibility with e-readers and ability for users to change the coloration, brightness and text size on any partner site
People who struggle with motor disabilities, by providing them with an accessible on-screen keyboard that helps them freely navigate your site
Those with epilepsy, by allowing them to disable dangerous flashing elements on all pages as soon as they enter a new website
People with cognitive disabilities like ADHD or dyslexia, by giving them access to a built-in dictionary that helps with dense descriptions and technical terms. They also provide adjustments that can alter any potentially distracting elements of your site like frequent pop-ups
Ultimately, our partnership with accessiBe is about restoring broken business to consumer connections. AccessiBe uncomplicates online interactions for anyone who is living with a disability, re-establishing the flow of communication between them and your company.
If you have any questions or are ready to make your website fully ADA compliant, let us know. We're here to help.