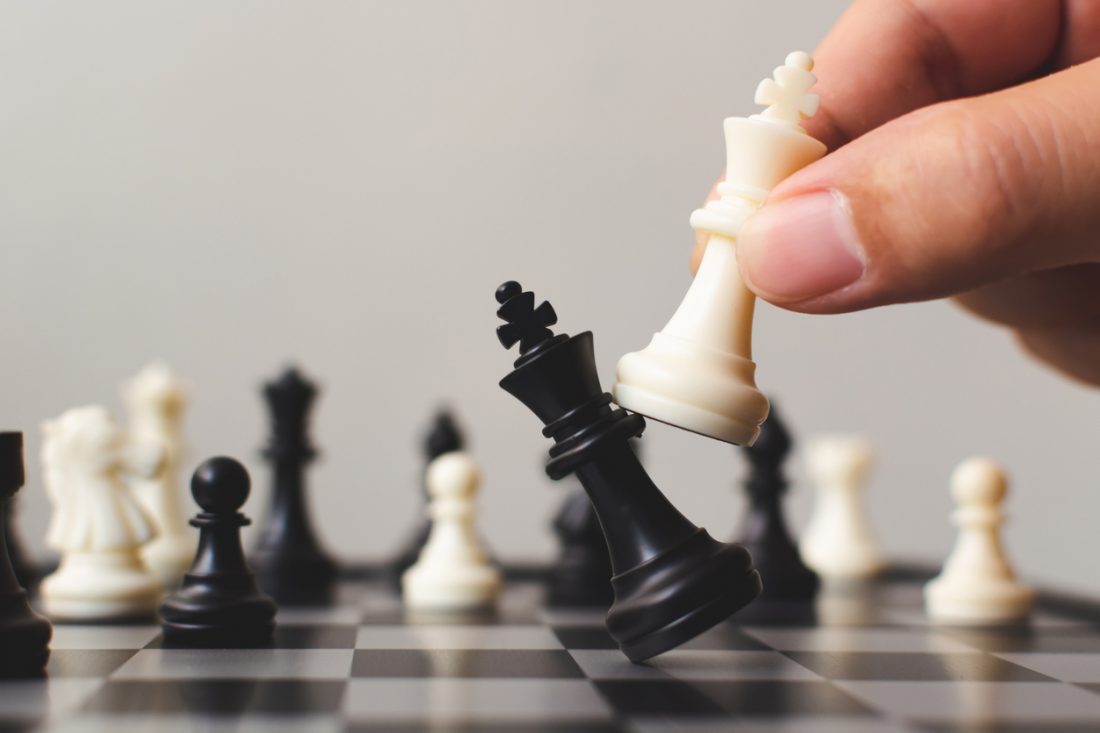 Unleash the Power of SEO for B2B Businesses with an SEO Competitive Analysis Checklist
As industries grow more competitive and digital landscapes expand, many B2B businesses find themselves struggling to maximize online visibility, attract qualified leads, and outperform their competitors. As these trends continue, one thing becomes clear: it's time for many to step up their inbound marketing game with an easy-to-follow SEO competitive analysis checklist — and finally reap the benefits. While you can make great strides by sticking true to who you are and what you do, in an increasingly competitive world where customers are more informed than ever, ignoring the competition can have a negative impact on your inbound marketing — and ultimately your business.
A strong website should always aim to attract, engage, and delight potential customers with valuable content and experiences. By strategically identifying your competitors, identifying gaps in their content, spotting opportunities in their keywords, and pinpointing technical opportunities to improve, you can discover better ways to position yourself, glean deeper audience insights, and improve your organic search visibility. With the SEO competitive analysis checklist outlined below, you can not only outsmart your competitors but identify potential partnerships, discover backlink opportunities, affiliates, vendors — and get one step closer to inbound success.
Step 1: Uncover Your TRUE Competitor
Who would you assume is your SEO competitor? The company down the street, or a similar business one state over selling the same product but already ranking for target keywords? When it comes to competitive SEO analysis, online competitors remain king. While it is important for businesses to rank locally, they need to consider the digital marketplace when it comes to SEO.
As it pertains to SEO, the businesses that share the same products, as well as the same keywords you want to rank for, will be considered your Primary Competitors. Companies who share keywords you want to rank for, but don't necessarily feature the same products you sell are known as Secondary Competitors. As you will see, both your Primary and Secondary competitors will be key to guiding and maintaining your inbound marketing and SEO strategy.
Step 2: Understand Your Audience — From an SEO Perspective
Do you really understand what your audience is searching for? What about their concerns and needs? How do you plan to gain visibility with your target audience? When it comes down to researching and understanding your target audience, we recommend breaking down your website or table of offerings by topic. By researching one topic, product, or category at a time, you can gain deeper insight into related questions your audience has, gain insight into top-performing keywords and topics, and understand how your audience thinks about and searches for your product or service.
Gain a General Understanding
You can begin to get to know your audience with a tool like Answer The Public, which allows you to build lists of questions around your selected topic and keyword. To implement this knowledge and gain greater visibility with your audience, you will want to incorporate metrics from a tool like Moz and their Keyword Explorer, or alternate search tool.
Dive a Little Bit Deeper into SEO
If you want to dive a little deeper to uncover opportunities, you will want to create your own keyword list in the Moz Keyword Explorer tool, and group keywords by your selected topic from earlier by toggling the Group Keywords drop-down to "Yes with low lexical similarity." You will want to show and add these grouped keywords to your Topic keyword list and name it by your topic.
Step 3: Identify Your True Online Competitors By Topic
Based on your Moz Topic Keyword list created from Moz Keyword Explorer, you will want to identify three to five keyword opportunities per topic. In Moz SEO terms, these selected keywords would be the magic combo of relevance, high volume (if possible), and low difficulty.
Once this handful of keywords has been identified, you will dive into Google Search. By searching for these keywords in Google and turning on your Moz Bar, you can export these Google Search results into individual spreadsheets. We recommend highlighting each individual spreadsheet as its own color. You can combine all of the keyword sheets you exported and highlight into one single document and sort by URL to further group by website domain.
Step 4: Discover Your Competitors and Explore
At this point, you will already have a solid picture of your competitors for that preselected topic. If there are any other topics or categories you would like to further explore, you can repeat the process outlined above.
To further analyze your findings, you will want to consider the types of websites that are appearing in your sheet: are they content-based? Do they also sell products? Do they sell one type of product? Now you can also determine Primary and Secondary competitors, which we have defined above. To confirm or check your findings, Moz Pro offers you the option to use the Tru Competitor tool, which will list your top SEO competitors based on your website. This can validate your competitor choices and be a shortcut to the process outlined above.
For deeper competitor insights, you will want to content competitive research for keywords and content at the domain and page level. Beyond that, you can also look into capturing competitor Featured Snippets, evaluate your competitors' backlinks, and compare their site speed, structure, and response codes.
Back Your Inbound Decisions with Competitive SEO Research Today
There are a number of benefits solid SEO research can bring to your online presence — and bottom line. A thoughtful competitive analysis can help provide valuable insights into what your target audience is searching for, the type of content they find valuable, and how your competitors are attracting and engaging them.
We hope this beginner-friendly SEO competitive analysis checklist can provide you with the foundation to understand your audience, identify competitors, and begin making strategic competition-backed decisions. To strategically beat the competition long-term, consider siding with an SEO expert to assess content, keyword, and technical SEO opportunities.
Our team at NgageContent is happy to help with additional competitive research and can provide easy-to-follow recommendations, and even implement them with ongoing content. Beat the competition online and improve your search visibility with help today.