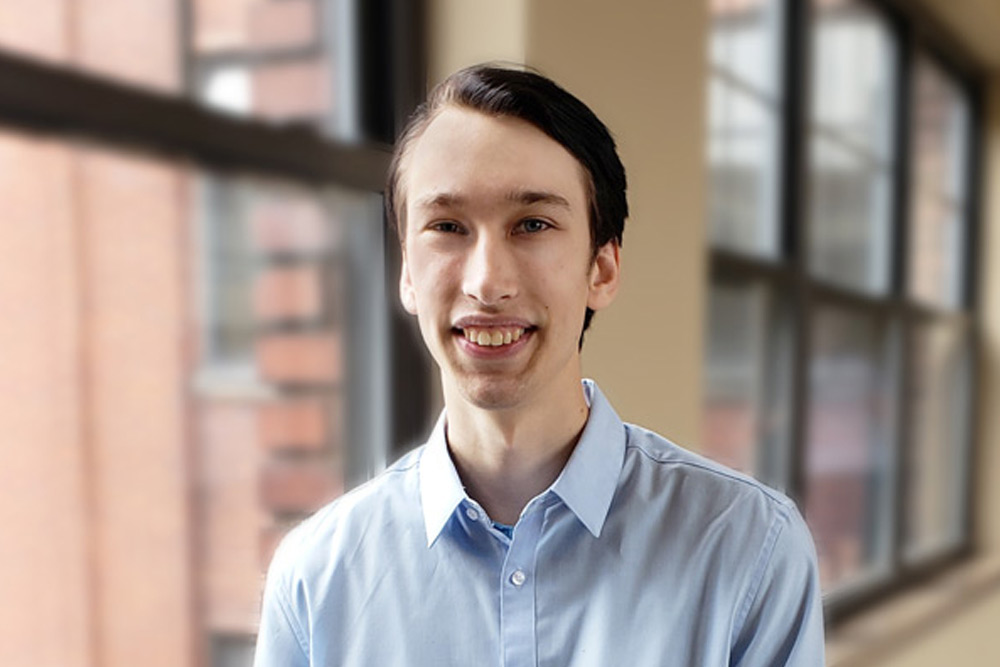 When Jacob Olle started selling Legos on eBay at 12 years old, he probably wasn't thinking about a career in marketing. He was just thinking about how to make some money for well, more Legos, because you only have one birthday a year! But when the time came to choose a college and major, things all fell into place.
As his side-hustle started panning out into a side business, he became more interested in how his offers on eBay were reaching people and became enthralled with what he could do to make them more appealing through images and descriptions. That's when he began online searches and learning new best practices.
When it came time to pick a college, Jacob decided to attend Cleveland State University and graduated with a Bachelor's in Marketing. After graduation, Jacob was searching for a full-time job but really wanted to land somewhere that wasn't too big. Once he saw the NgageContent job listing, he applied and the rest is history. Now, he gets to sit down as our HubSpot expert for this interview!
After working for NgageContent for nearly a year, Jacob has owned the title of Inbound Marketing Strategist, and his time here has been well spent making him our go-to guy for all things HubSpot.
Jacob will be publishing a 6-part blog series on lead scoring in the weeks to come! This includes a blog with a general overview of all the topics being covered. But, before we get into that, here is just a little more from our Q & A session about lead scoring with our Inbound Marketing Strategist during his HubSpot expert interview. 
Q & A with Jacob Olle
Q: What ideas or concepts of your own have you brought to NgageContent?
A: I know we did some HubSpot and Google/Facebook Ads before I joined, but there wasn't someone solely dedicated to it. Now, we're able to do so much more with digital ads across all the main platforms and put extra focus on HubSpot strategies such as lead scoring. Maybe it's not so much that I've brought new ideas as much as I've brought the additional capacity to dive into these platforms, learn the details, and run the tests that NgageContent has been wanting to all along.
Q: What's a common misconception about lead scoring?
A: From what I've seen, people tend to think that lead scoring is limited to the company's existing website and scheduled emails. Unless someone is truly engaged, that can make for a slow climb to the target lead score. That's where the lead scoring drips are super handy. We can give prospects as many chances as we want to accumulate points. Lead scoring happens behind the scenes, and it may take someone an extended period of time (weeks, or even months) to reach the qualifying score under the same treatment as any other prospect. However, turning up the heat on engaged prospects, allowing them to engage with more content and get to know your brand better (and faster), seems to be so overlooked. It can take a really long time for lead scoring to blossom into leads when all prospects are treated equally and expected to discover your best assets all on their own. On the other hand, serving additional engagement opportunities stuffed with high converting content to interested prospects can potentially produce qualified leads in a matter of days.
Q: What is a solution to a program you recently figured out on your own?
A: A client wanted to automatically create a to-do in Basecamp that was triggered by a HubSpot deal moving into a particular pipeline stage. They also wanted deal-specific information to populate in Basecamp, have the to-do appear in the corresponding project based on the specific pipeline, and have it be assigned to the same user in HubSpot and Basecamp. I ended up finding a solution through Zapier that accomplished all of that and was easily replicable for each pipeline. 
Q: Why do you believe lead scoring is effective?
A: It's pretty much impossible to monitor every contact every single day. Sales and marketing teams vary in size (and responsibility), and a huge problem we see is knowing which prospects to reach out to and when. It comes down to a  hunch for many organizations, but it doesn't have to be. While there are untracked variables that could otherwise qualify a prospect (in-person communication, inside knowledge of a company's pain points or woes with a competitor, etc.) lead scoring can be used to identify prospects that are engaging with your core assets (website) and activities (email). I think lead scoring accomplishes two huge things: It identifies engaged prospects, allows sales teams to focus their efforts on prospects that are actively showing interest, and it validates marketing efforts by applying a score (while arbitrary) that shows how often prospects are engaging with the email and visiting the company website.
Q: Why should more businesses use lead scoring?
A: Lead scoring provides actionable insights, proves (or disproves) the value of current marketing activities, and it creates a better, more personalized experience for the most engaged prospects. 
Q: What have you learned about lead scoring during your time at NgageContent?
A: You can score on almost anything that's of value to you, from the activity on a  website or emails to property values (like lead source, market segment, company size, etc.) based on information the prospect provides to you. It's underused and often under-maintained. Even when it's implemented, it's important to revisit the scoring attributes every now and then to ensure that new assets and web pages are included. It's also important to exclude internal users from lead scoring so that your numbers aren't skewed.
Contact Our HubSpot Expert Today!
Watch for Jacob's upcoming blog series as they roll out in the weeks to come as he continues to cover various HubSpot topics related to lead scoring. If you would like to ask any questions about lead scoring, or have any comments about our HubSpot interview expert Q & A, please reach out. We're here to help.