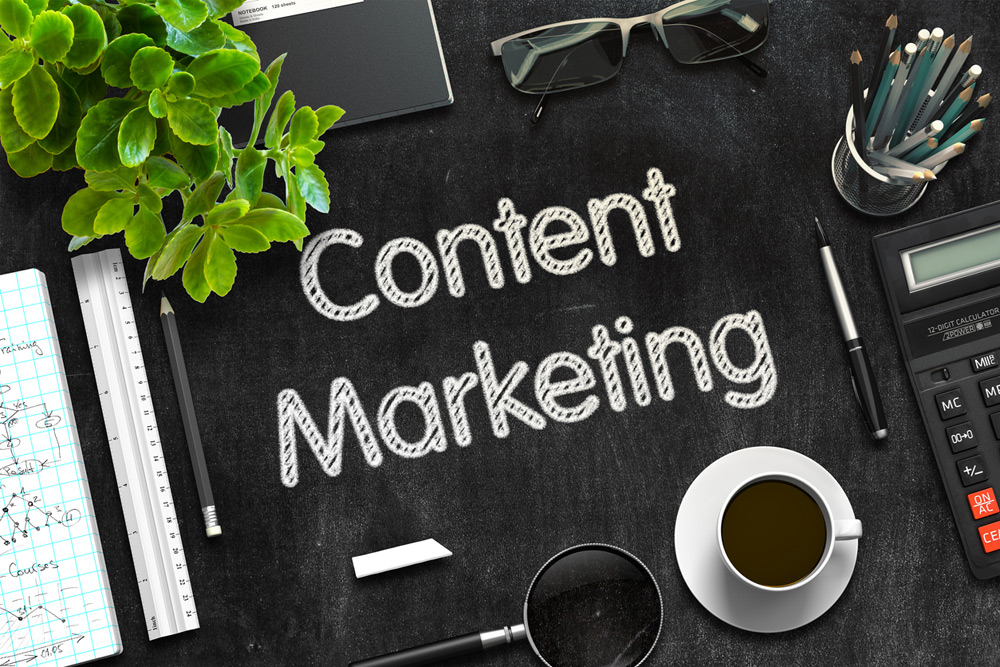 You see it everywhere you go. When you scroll through your favorite social platform, turn on the TV, or read an article on the Internet, it's in front of you waiting to be seen. You can't seem to escape it, yet everyone is clamoring for more! What is it? 
Content, of course!
In 2019, a big buzzword that gets thrown around in conversation a lot is content. The truth is, everything you consume — whether it's your weekend Netflix binge, catching up on Twitter, or watching the news — is just your way of consuming content.
While this may seem like it doesn't change your day-to-day life much, you're actively making a choice of which kind of content you deem useful or of quality to you with each action you take. 
While the Internet continues to be relied on more heavily each and every day, we broke down the top five content marketing trends, and why you should be implementing them. 
1. Understanding Content Clusters
Maybe you're in charge of your content marketing team and ask that each person carefully crafts each piece they write into a great literary piece. But does that work for your target audience? Do they want to spend that much time reading?
This is where content clusters come into play. For each topic — or subtopic — you assign to the brand you're writing for, you want to write a cluster topic or blog.
To kick it off, you begin with the pillar topic. Within the pillar topic, you'll be providing a high-level overview of what you'll be discussing. The pillar piece will be especially long — think more than 1,250 words — and will highlight each cluster.
Within the pillar, you'll link to each cluster blog using its respective keyword. This allows your readers to branch off and read the subtopic that most pertains to their needs and interests.
This is an important tactic to use as the more content you have focused around one single topic, the higher you'll rank in search engine results. 
2. Remarketing for Lead Generation
If you thought display ads were nearing their end, the numbers are showing that couldn't be any further from the truth. Display ad spending is trending to be 28% higher than search in 2019.
The idea behind ad remarketing is simple. Your display ads appear to people who have visited your site as they browse the web. You're simply trying to convert prospects into qualified leads.
Even if your click-through rates (CTR) go down over time, people who do ultimately end up clicking on your ad after seeing it multiple times are twice as likely to convert. 
Yes, twice!
Remarketing can be a very simple — and digital — way to get those touches to convert that person to a qualified lead. By using different campaigns — and if you have existing user data — you can begin the remarketing campaign using multiple platforms.
For one campaign, you can use Google's remarketing solution — Google Ads. In order to do this, you'll need to create your ads, build your campaign, and add the remarketing tag to your website. 
For Facebook remarketing, the concept is similar, but you retarget whichever audience you want, whether it's by app activity, website traffic, customer list, or engagement on Facebook.
3. Remember Omnichannel Distribution
While you know who your target audience is, everyone interacts with your content differently. This is why you can't ignore some of these biggest uses of other platforms in the market today.
While many people understand the importance of maintaining a social media presence for their brand, they might forget that some people simply prefer to consume their content in other ways.
Video content is already hot in the market and is expected to grow. It's forecasted that by 2019, 80% of consumer Internet traffic will come from global consumer Internet video traffic. 
This means using video for content marketing purposes from YouTube, Instagram, Facebook, and more will be a huge opportunity to expand your brand. And, just as a side note, audio is working its way up the ranks as well with the increasing popularity in podcasts.
4. Chatbots and AI Go Hand in Hand
The popularity and demand for chatbots are growing across the globe. Many consumers are now expecting that they're able to connect to their favorite brands 24/7 and get the answers they need quickly and efficiently.
You can look at chatbots in one of two ways. One, they can point your consumers to additional supplemental reading to help them solve their problems immediately. Two, your chatbots need to have the AI to sense when a higher, human touch is needed.
Chatbots can empower the consumer to not only solve their own problems but also provide you with additional data and feedback to be reviewed by an actual person to better understand your audience's demand.
5. SEO Is Here to Stay
Search engine optimization is very much so here to stay. In fact, SEO's sole purpose is to help consumers avoid low-quality content in one of a few ways.
When you use the best SEO practices, you're backing your website with data-supported information from keyword optimization, meta descriptions, and more to show your consumers you truly have the answer they're looking for.
Businesses that use SEO and avoid the use of thin content, spelling and grammatical errors, and keyword stuffing not only show the consumer you are a reliable source but also show Google, too. This helps your website rank higher.
If Google detects your website is indeed high-quality content, as we all know it should be, you'll be rewarded. But, if your site is not properly optimized, and things like navigation, speed, and design are frustrating to the end-user and leave, Google may interpret this as your content not providing the relevant information to your consumer and drop you in the rankings.
NgageContent Wants to Help You
If you believe your website or content marketing strategy is close but not quite up to par when it comes to best practices in the industry or following these top trends, our team is here to help you.
If you have any questions or would like to speak to someone about a website evaluation, please reach out. We're here to help.