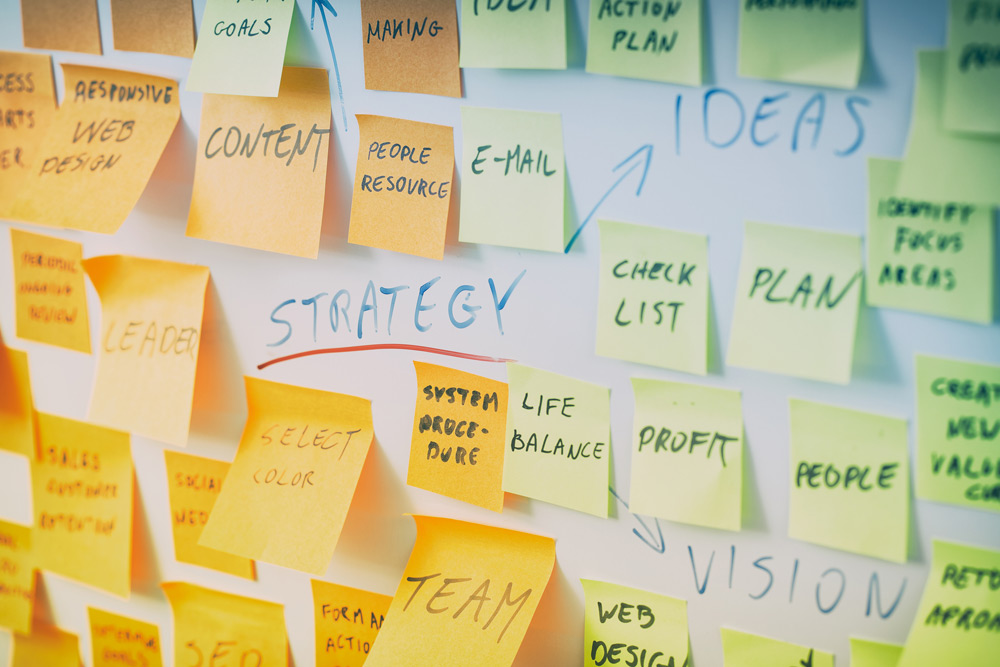 How You Talk About Your Business is Just as Important as What You Talk About
Looking for content advice? Here's a tip: it's always easier to have a plan. If creating content is the one thing on your to-do list that you keep ignoring, a messaging strategy will help you find your way out of the weeds.
There are always times when creating web content can feel like you're beating your head against the wall. We know, we've been there. Sometimes it's because you're trapped in a writer's block stranglehold, and sometimes it's because you're trying to pump out content without a plan.
While it's always thrilling to get that midnight creative rush and dump out all of the content you need in two hours, if you're just writing to fill the empty spaces in your site design, it's not going to make sense with an overall strategy. You may know your business inside and out, but creating strong web content that makes an impression is requires knowing why you're writing what you're writing.
A messaging strategy helps you lay all of this out and visualize your goals so you never lose sight of what you want your content to say and how you want it to come across. You still might pump it all out later this week at 1:30 in the morning, but we won't tell.
When you're creating content for a website especially if you're starting from scratch, building a well-defined messaging strategy is necessary to keep everything you write focused and consistent. Not only will this make it easier for you to sit down and write — but your future self will thank you when your content doesn't have to be rewritten because everything is already centered around the same message.
Want to create a strong messaging strategy for your site with great content to support it? We can help you learn how. We'll go over the following topics and if you feel like skipping ahead, follow the links to the start of each section.
Be a More Relatable Brand with a Content Messaging Strategy
When you first start working out with a trainer, they'll often want to know your reasoning behind wanting to exercise. Think about this with your content. What's your motivation for writing a content block, a page, or even an entire site? If someone landed on your site and read your content, what is the objective that you're setting up for them?
These are some of the key points that you'll want to lay out in your messaging strategy. If you can fully understand what you want people to do when they read your content, it'll be easier for you to structure what you want to say.
Along with knowing what you want to say and where, your strategy will also define what you want to say and how. What your business does won't matter to people if you don't say it the right way. Your sales people can't be downloaded into your website to talk to people when they land on a page, but you can capture the way they're talking to customers and echo it in your content. The voice that you give your content is how your audience is going to connect with your brand online, so you need to make sure that it fits your message. If you want to be fun, try a more conversational tone in your writing. If your brand caters to a very professional industry focus on getting your point across in the clearest way possible, and convey that your brand is a competent player in your space.
Once this is all established, draw up your outlines for each page you need to write. Think of outlining as a way to reinforce your consistent message throughout your writing. With a detailed list next to you while you're working, you won't forget what is important in your messaging strategy, and your website will be one full picture for your audience.
Homepage Content: Say it Right and Say it Loud
Believe it or not, it's going to be easier for you to tackle your website's homepage content last. Your homepage is like the window to your business. If someone is window shopping, what are you going to put in your display to pull them inside?
Your homepage needs to capture everything about your message and your voice quickly in short chunks of content, so it's easier to put this together once you've already written the supporting pages. The homepage of your website is the final piece of the puzzle with your messaging strategy. Everything comes together to create the full picture of who your business is and why people should work with you.
Pick the most important sections of your site, the places where you want people to go, and feature them on your homepage. Don't tell the whole story though, leave your audience wanting something more so they feel inclined to click the link to that page. It's crucial that this content is compelling because, just like when you're window shopping, you've only got a few seconds before people walk away.
Give people a reason to click through so you can lead them deeper into your site. The longer you get them to browse your website, the more time you have to hook them and gain another lead.
Don't Be Irrelevant — Find Content Ideas That Have an Impact
Here's another important thing to remember — your messaging strategy goes beyond just your website content. In order to create one thriving message around your business, it has to apply to everything you create. From social posts to blog posts, every piece of content should tie back to the original messaging strategy you created.
Why? You want to create content that matters to your audience. Your strategy should also include what's important to your audience. What do they care about in terms of your industry? The worst things you can do is create irrelevant content that no one is going to care about, or write content and try to force it down people's throats to get more traffic.
Good web and blog content is not just content that's well-written, it's pieces that are providing value to your audience. Every audience is different, but the surefire way to create value is to answer questions about your industry. Do people ask your team how to create better content? Write about it! Do they ask about the best processes for SEO? Add it to the editorial calendar.
Questions related to your business are ground zero for topic creation, as long as it's specific to your industry. People might want to know where you get the awesome coffee for your meetings, but that's not going to prove your worth as a thought leader in the industry. (It would make a great social media post though.)
Remember, you're not writing for you. You're writing for your audience. Think about the things that they want to know about and it will be easy to create content that matters. Having the best answer is going to get you recognized by search engines and have people find value in your posts.
Expand Your Messaging Strategy by Sharing Your Content on Social
Another key aspect of your messaging strategy is how you're communicating with people on social media. (Assuming you're already using social media. If you're not, we'll wait here while you go set up an account on Twitter.)
Creating content and optimizing it is great, you're on the right path, but you have to keep moving. Keep making ripples in the pond so people take notice. If you're consistently pushing your content out into the world, people will see it! You just have to know what's right to share.
This goes back to what we were talking about before in creating content that's helpful to your audience. Build the same plan with your social media, and stick to an 80/20 plan. Meaning only 20 percent of the content you're sharing should be pieces you created. Since you're already writing content that matters to your audience, it'll be easy to find posts that are related to your strategy.
Stick with what you know! The things your audience is interested in and asking about is always what you want to focus on. Find relevant posts around the general topics you already know are working and use them to engage with your followers. Keep the voice you use for your social posts conversational and helpful. Stay away from sounding like a sales team on social media, too. Your followers are keeping up with you to learn, not to make a purchase.
If it Ain't Broke, Don't Fix it — Recreate it Instead
Once you have a stock of content pieces, don't just let them sit! Continue to share them on social media, but only if they're still performing well for you. Pay attention to the ones that are still drawing attention, this is a sign that you hit the nail on the head. If you've found a winner, take advantage of it!
When you're creating content pieces, you want to focus on writing evergreen content. These are pieces that are going to be relevant to your audience year after year. Don't focus on something that might be outdated in a few months.
Once you've identified your pieces that are performing well, turn them into something new. Repurpose the focus of your content into an ebook or an infographic that you can share. All of these will help expand the impact that your piece has by allowing it to touch more people in the form of different resources.
How to Use Your Best Content Pieces to Your Advantage
After you work through the creation of a few solid resources, take the most valuable one, say an ebook, and gate it. By asking for someone's email address in exchange for your content piece, you'll be able to gain more organic leads. These are people who you know are actually interested in what you do, and you already have a touchpoint to use to reach out to them again.
Whatever your audience is looking for most is probably your best bet to use for gated content. Think back to your messaging strategy, what's going to make your audience think, this is something I need? Your gated content is going to help establish you as thought leader in your space, so choose a content piece that really shows you know your stuff.
Your messaging strategy will help lead you to your gated content pieces by showing you what your audience wants to know about. It's also going to help reinforce your brand because you'll be able to show people that you're a strong player in your space by having a variety of content offerings.
A messaging strategy is going to help you do so much more than just get organized. You'll be able to better identify content opportunities, and create better connections with your audience because they'll feel like you're talking directly to them.