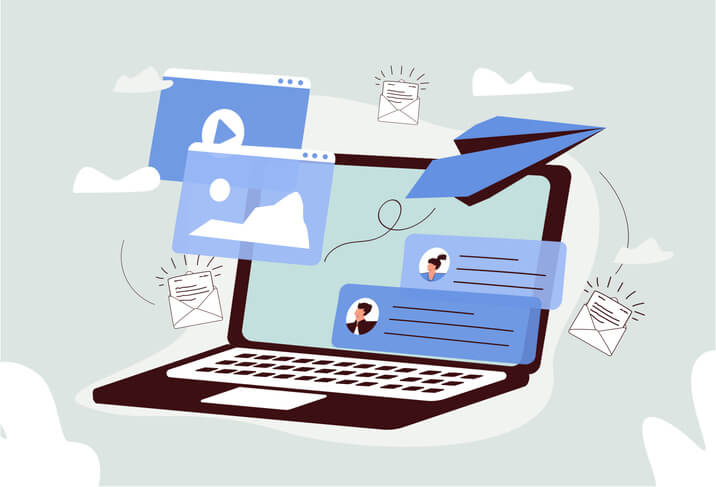 Storytelling in Email Marketing
When it comes to driving engagement and conversions with email marketing, storytelling techniques are some of the most powerful tools available to inbound marketers. But what exactly is storytelling in email marketing and why is it so important?
Even with the rapidly changing marketing landscape and the constant introduction of new technologies, email is still one of the primary ways businesses keep in touch with their customers and leads.
In 2022, 64% of small businesses relied on email to communicate with their customers, and a whopping 81% of B2B businesses reported that email newsletters was the form of content marketing that they used the most.
Clearly, email marketing is still very relevant! The question is how to make it effective. In a world where more than 306 billion emails are sent and received daily (a number that is expected to climb in the coming years), how can you make sure your business stands out in the over-crowded inboxes of your audience?
The answer is storytelling.
Why Storytelling Works in Email Marketing
Storytelling is possibly the most effective way to form a deep emotional connection with your audience. The best part is that it doesn't have to take long.
Back in 2009, two men conducted an experiment on eBay where they sold random items by including short fictional stories in the descriptions. The result? A selection of items worth $129 altogether sold for a net profit of $3.6 million.
That project was called the Significant Objects project and it perfectly illustrated the power of storytelling.
In email marketing, storytelling can transform your business from a faceless company into a humanized, friendly contact that your audience looks forward to hearing from. With good stories, your brand becomes more memorable, and it's easier to build lasting relationships with your subscribers and increase conversions.
Email is also a fantastic opportunity to tell your brand's unique story. These days, people want brands that align with their values and world-views. By providing your brand story and highlighting what you stand for, you can add intrinsic value to your offer.
What Does Successful Email Marketing Storytelling Look Like?
One thing to keep in mind with any piece of marketing content is that it needs to grab the attention of your audience from the very beginning. When it comes to email, this means you need to be able to stand out in your reader's inbox before the email is even opened.
Using storytelling principles help you craft compelling, curiosity-driven subject lines and email body copy that transitions seamlessly into your CTA. The important thing is to make a connection and add value.
A few ideas for achieving this include featuring your company's origin story, personal anecdotes, customer success stories, or testimonials.
Engaging visuals like dynamic images or short videos can go a long way in giving your email that extra boost, as well.
How to Choose the Best Story for Your Email
The type of story you choose to tell in your email is as important as the act of storytelling itself.
To make the best use of storytelling in email marketing, you need to understand two primary factors: the goal of your email and the audience you want to reach.
Understanding the goal of your email will help you choose the right story that will both create an emotional connection with your reader and prompt them to take the action you want them to take.
Similarly, knowing your audience gives you the insight you need to know which stories, and which style of storytelling, will resonate the most. Not every message will work with every group of people, so it's important to craft your story to fit each segment of your audience.
A final piece of advice: make sure that whatever story you're telling in your email, you're being authentic and honest. 90% of people prefer brands that are transparent and authentic in their interactions.
Want to Team Up With a Crew of Passionate Storytellers for Your Marketing Strategy?
NgageContent is an inbound marketing agency that aims to help you create the connections with your audience that drive engagement and generate results. Our team of experienced marketers and writers plan, strategize, and create content that will meet your audience in any stage of the buyer's journey.
With our focus on inbound marketing strategies backed up by data and experience, we'll help you find the marketing solutions that are right for your business.
Ready to start producing content that motivates your audience to buy? Contact us today.