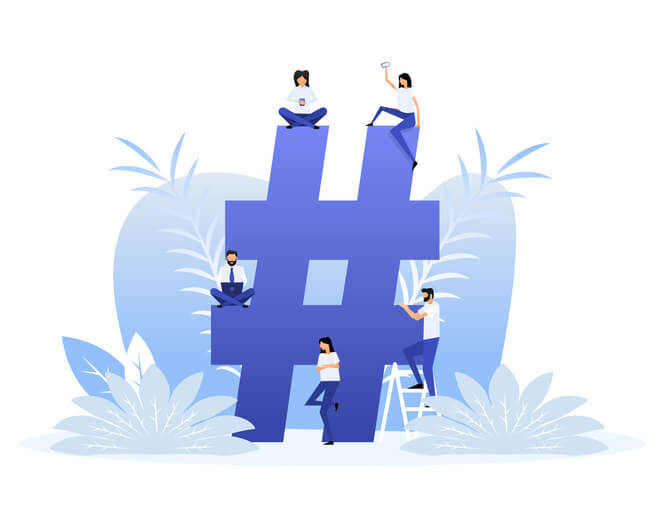 Don't Let Your Social Posts Flop
Picture this: you've created the perfect caption, made the best graphic, and you're ready to hit "post" on your company LinkedIn page. But, when you do — crickets. No one is interacting with your post! What went wrong? How can you prevent this from happening again? The answer is hashtag research. If you want your organic content to perform well, you need to have a strategic plan surrounding your hashtags. In this article, we'll show you how to do hashtag research and help your posts stand out.
The Importance of Hashtags
If you don't have a hashtag strategy, you're missing out on a valuable reach and engagement opportunity. Posts that include hashtags get over 12% more interaction, which could result in more sales for your business. But, it's important to use the right hashtags to garner the best engagement. Using the wrong hashtags (looking at you, list of banned hashtags) could ruin your chances of appearing for certain terms.
Key Places You Can Put LinkedIn Hashtags
There are four different places you can use LinkedIn hashtags: in your post, in your long-form articles, on your company page, and on your profile. Using a mix of both can help you stand out on the platform.
In Your Post
You're probably already familiar with this one. You open up LinkedIn, type your post, and add your hashtags there as well. Some people put their hashtags in the first comment, thinking it will help boost engagement. But it doesn't actually do anything, so it's best to put it into your post.
Long-Form Content
You have the ability to post long-form articles on LinkedIn. If you choose to go this route, always add your hashtags to the end of the article. You could put them within a paragraph, but people might click out of your article before they read the entire thing.
Company Page
You have a great opportunity to put up to three hashtags to your company page. This is important because they:
Quickly let people know what your brand does or talks about
Help the algorithm determine when to show a person your page
Inject your content into the feed for these hashtags
Personal Page
On your personal page, you can turn the creator button on and add hashtags to your profile. This is incredibly important for solopreneurs who may not have a company page set up, because they can help people find you. If your business has employees, it's also a good idea to have them add hashtags to their profile. If you work for a marketing company, for example, you might add #marketing to your personal page.
How to Build Your Hashtag Strategy
1. Mix Popular and Niche Hashtags
When building your hashtag strategy, it's best to use a mix of large and small hashtags. Hashtags with more followers get more views, but your post might get lost in the shuffle. Hashtags with fewer followers give you the opportunity to reach people with more specific interests. But, there will be a lower number of these individuals, which limits your reach. That's why it's important to use a mix of both.
How do you know how big a hashtag is? Type linkedin.com/feed/hashtag/yourhashtag into your browser. For example, if you're looking up #marketing, you'll put in linkedin.com/feed/hashtag/marketing. It will show you how many followers that hashtag has. You should use a mix of hashtags that have over a million followers, and some under a million.
2. Keep it Under 10 Hashtags
You technically can use unlimited hashtags, but it will be a massive wall of text that will alienate your audience. It's best to use 10 or less hashtags to avoid an overwhelming number.
3. Change Up Your Hashtags
Research five to 10 key hashtags for each topic you post and use a few per post to see what performs best. If you notice some of your posts are performing better than others, it could be because of your hashtags. You'll have to spend some time testing to figure out what's working, but you'll get greater engagement in the end.
4. Use Trending Hashtags
Chances are, there's a trending hashtag you can use within your industry. In the marketing space, everyone's talking about ChatGPT and other AI tools. If you have a relevant opinion about a trending topic, take advantage of those hashtags.
Still Not Sure How to Do Hashtag Research? We're Here to Help
As a business professional, you might not have the time or resources to build a hashtag strategy. If that's the case, partnering with the experts at NgageContent can help. As an inbound marketing agency, we work with you to create a customized and data-driven hashtag strategy that aligns with your marketing goals and target audience. Our professional guidance and experience can lead to improved social media visibility, increased engagement, and a stronger online presence for your brand. If you still have questions pertaining to how to do hashtag research, reach out to us today.