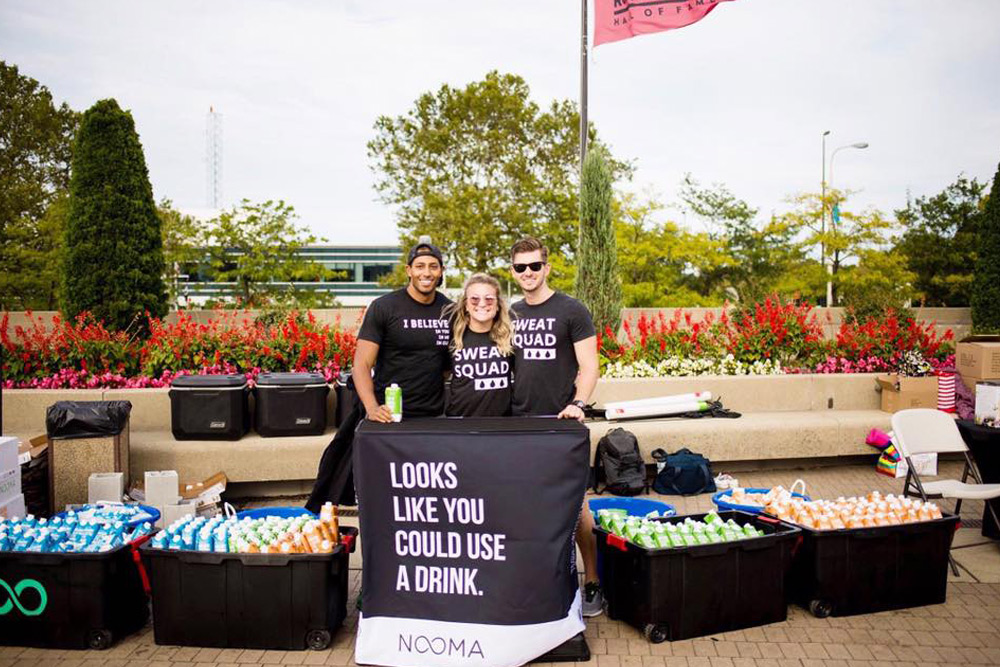 There are Humans Behind the Phone! Learn How NOOMA is Creating an Engaging Social Media Presence
Does your social media presence inspire your audience to go out and do 50 burpees?
Have you ever had a Tweet spark one of your followers to change their diet?
When you're a lifestyle brand focused on hydrating athletes of all levels, if you don't drive the sweat that creates thirst for your product, you'll never get to the front of the shelf.
From humble beginnings in a small warehouse in Cleveland, Ohio, to a roll out to select Whole Foods stores nationwide, NOOMA is an organic electrolyte drink company that drives passion through sharing a lifestyle with its audience online.
NOOMA does this by speaking to the heart of who their consumer is and what they want. Jarred Smith, one of NOOMA's co-founders, and his team think about how they can create posts that allow new followers to connect and longtime followers to stay connected to their message.
"[We think about] the ways they would really enjoy interacting with us, and starting with that mind frame to stay in front of them. Not every person is going to want to be spoken to in the same way," Smith said.
What NOOMA has done with their social media is nothing short of amazing, and it's their strong initiatives toward reaching out to their audience that has led them to landing their product in Whole Foods stores around the country. But before they made it to the big stage, they had to figure out exactly who they were talking to.
How did they do this? They took the time and went out into their community and found their audience. They shared stories, worked out with them and gave away their product so that they could honestly understand what the people they wanted to target were looking for. On top of this, every time they went out and interacted with their audience whether it was at a marathon or a group fitness class, they documented it on social media with real photos.
"How are you going to build a brand off of stock images? We really focused in the beginning. We decided to take the time and have me learn some photography skills,"
Leigh Richards, NOOMA's marketing director said.
This is where NOOMA's strategy for social media sets them apart. They're taking their own photos and posting things their audience cares about, not what they think will help them sell more drinks.
NOOMA's social media posts cut through the noise and present inspiring, motivational and helpful posts that their audience can easily relate to. They refuse to use stock images. Instead, they took Richards, bought her a camera and had her start taking all their photographs.
By being an active part of their local fitness community, NOOMA's brand started building credibility. You see their team members out in the world crushing PRs just like the people they're targeting, and it shows the authenticity and the human element behind who they are. As they continued building a following, they found a group of people who are passionate about the same things they built their brand on, and how and where to reach them.
"Look at the number of crossfit, spinning, yoga, run clubs etc. studios across America. There's well over 10,000 boutique studios, many with over 100 members that come into their stores a couple times a week. They're all together, all going through the same experiences, they're all in the middle of our target audiences," Smith said.
Along with connecting in person, part of building their social media brand awareness meant connecting with their followers online. The NOOMA team is constantly interacting with their followers on their posts. People understand when they engage with NOOMA online, they're interacting with real people behind the phone, not just a static brand. It's not rare to see comments from followers talking about how much they love NOOMA, and their praises don't go unnoticed.
"Last night a girl who was running the New York City marathon wrote this long caption on our picture, and said how much she loved us. I immediately DM'd her and said 'hey, I know you're running the NYC marathon next week, I'd love to send you a 12-pack and wish you good luck.' She just freaked out over that. We love staying connected with our fans, not to mention, I'm sure that will end up all over her social media," Richards said.
Little things matter, and going out of their way to show their followers they care about them is what has driven NOOMA's brand to a nationwide presence, and it's created a lot of loyal brand advocates along the way.
Yes, you should use your social media to push your products and build awareness, but no one is going to listen if that's all you do. Just like creating content, social media posts are created for your audience's needs, not yours. NOOMA follows the Gary V. jab, jab, jab, right hook strategy, meaning that their posts are not all sales. They spend their time posting content that's relevant to their audience first, and mix in hooks (sales-focused posts) as they go.
"You do want to make it a delicate balance. The saying is your inbox is sacred, and so is your social media. You don't want to follow someone who is constantly screaming at you," Richards said.
NOOMA's social media has taken off because they follow a solid strategy that is helping them create a strong brand following for their products.
If you want to find the same success, start with honing in on who your audience is, what they care about and how you can show that through your own social media, and don't be afraid to take your own photos! Make your accounts feel like they have a human presence instead of a bot pumping out content. Doing this first will help you start to establish a stronger platform so that when you do test out a hook, you'll find more success.