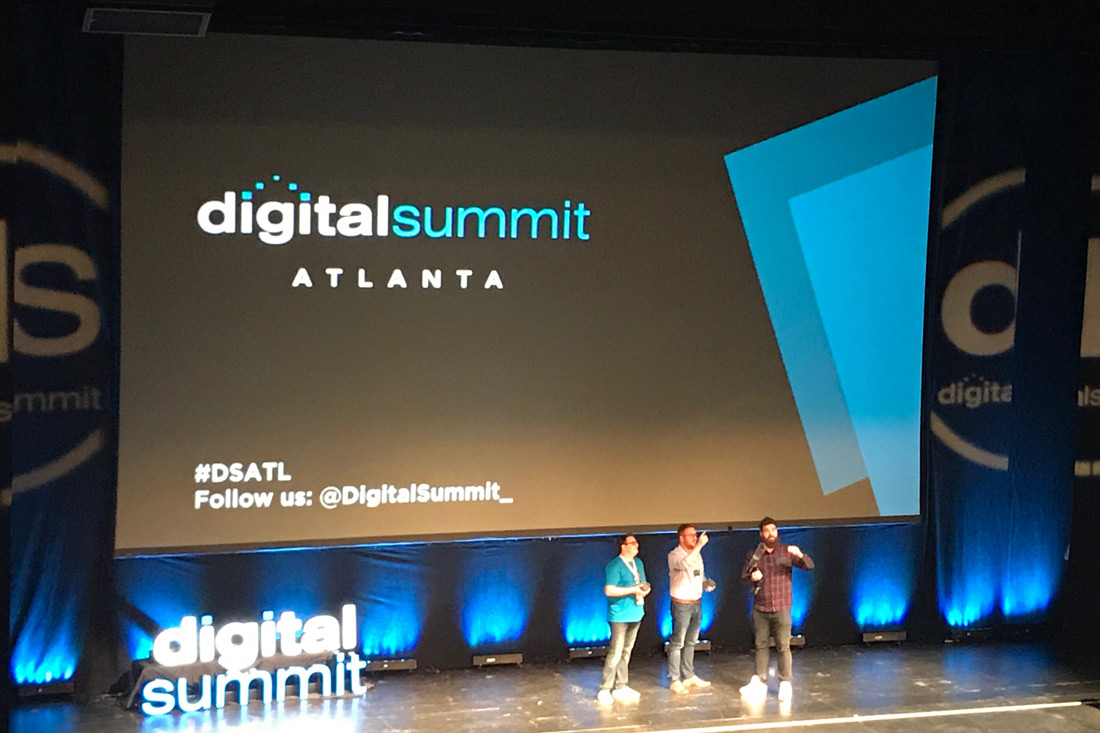 Digital Summit is a conference for marketers to come together and learn from some of the top marketing thought leaders in our industry.
At NgageContent, we're always trying to stay ahead of trends, and a few members of our team were recently able to attend Digital Summit Atlanta and bring some of the ideas from these marketing thought leaders back to our office. From better tools for keyword research to stronger email strategies, there was something for everyone at Digital Summit Atlanta.
A big theme that was echoed throughout the conference was refusing to be average. Many of the top marketing thought leaders at Digital Summit Atlanta emphasized ways to make whatever you're working on — whether it's optimizing a blog or planning social posts — stand out. By taking a deeper look at what your competition is doing, you can go one step further and target your audience with something a little different.
If you weren't able to attend Digital Summit Atlanta, our team took notes and compiled a bunch of great tips to bring home. Here are our four favorite ideas from marketing thought leaders at the conference:
1. Build Strategic Social Media Goals by Being Realistic
Thoughts from Eve Mayer, CEO of Social Media Delivered, @LinkedInQueen
When goals are set for social media, many companies fall into very general aspirations. Eve Mayer's engaging talk emphasized the importance of being specific when you're making goals, and be clear on how you're going to achieve them and what it's going to take to get there.
Everyone's basic goal for social media is always to get more followers or likes, but Mayer encouraged people to push for bigger objectives. Set engagement goals that will have a positive impact on your business goals, and if you're just getting started with your social media presence, Mayer stressed that you're going to look lame at first — and that's okay. The trick to building a relationship with your followers is to continue to post as if they were engaging with you, and eventually as your presence grows, people will engage.
2. Build a Strong Content Marketing Strategy
Thoughts from Quinn Tempest, Director of Marketing at Vertical Measures, @QuinnTempest
Quinn Tempest spoke about how to start creating better content marketing strategies by looking at the content pieces you're creating, how you're sharing them, and how you're optimizing web content to play fair with Google. Tempest pointed out that it can seem daunting to create a large number of content pieces that you can share everywhere. Her solution? Create a content hub from one main thing, like a gated content piece, that you can dip into and repurpose to eliminate the issue of having to come up with totally new pieces.
By sharing some of these pieces through email, you can build a sense of trust and loyalty with your leads and guide them to becoming customers. Yet in order to get leads, you have to drive them to your website. 93 percent of consumers will search for what they're interested in before they buy, so it's key to make sure you show up in those searches. Tempest said that for every 10 hours you spend writing content, spend at least 10 minutes optimizing it. Less than 10 percent of traffic makes it past the first page of Google, so even just a little time spent optimizing could push you to where you want to be.
3. Don't Give Up on Email — It's Still the Best Way to Reach People
Thoughts from John Thies, Co-Founder of Email on Acid, @johnethies
John Thies opened his session by announcing that contrary to what you may have heard, email is not dead, and marketers can take advantage of the positive affects of email if they use it correctly. Last year 18 percent of Black Friday sales were driven by email alone, and Theis stressed that by being relentless about your relevancy, you can achieve results too. One way to do this is to re-engage your inactive subscribers. By making them feel like they're missed, you're showing them why your brand matters and getting them involved with you again.
When you're crafting your emails, Theis recommended that you shoot for 500 or more characters within the copy of your email. For example, the first paragraph in this section is about 500 characters. You don't need to overload your subscribers with information, instead write your email like you're talking to your grandma. If your email is too long, your reader is going to forget what the intended message was by the time they get to the end. You have 8.25 seconds to get someone's attention, so put the most important thing you're trying to say first. One big easy win for emails? Add pre-header text to push people to open your email. Another great tip that Theis gave was making your email subjects longer. According to Theis, subject lines with 61-70 characters get more reads.
4. Want to Make Your SEO Stronger? Size Matters
Thoughts from Matthew Capala, CEO of Alphametic, @searchdecoder
If you want to improve your SEO strategies, start looking at keywords that are focused around your buyers journey. I went to both of Matthew Capala's talks on SEO, and as a marketing thought leader, he provided awesome tips for giving your SEO a boost. Capala says that when you're looking for keywords they should follow the steps your buyer takes, meaning look for keywords focused around awareness, "how to" keywords where the buyer asks a question, research, decision, and specific keywords around your brand. By targeting words in each of these stages, your brand will likely come up as an answer for your buyers, and you'll be able to drive more leads to your site.
Capala also mentioned a number of tools that are awesome for marketers to use when they're doing keyword research. One of the tools he mentioned, Keyword.io, is a great way to look at hundreds of opportunities and see what similar terms people are searching for. Out of the 2.3 million searches per minute, 20 percent of keywords are searched for the very first time. By doing deep research into what's being searched in your industry, you can quickly create a strategy around what space you want to target.